Wine Tasting in Valle de Guadalupe, Baja California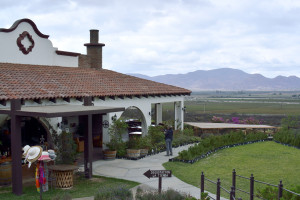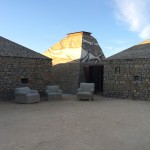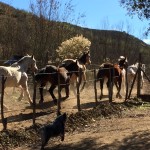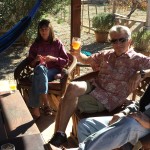 Eight guests joined us for a weekend at Rancho La Bellota near Valle de Guadalupe, "Mexico's Napa Valley". The valley is a jewel, with over 80 vineyards ranging from small family owned boutique wineries to mid-sized vineyards to large-scale production facilities. We visited 3 wineries and enjoyed a delicious luncheon in the Wine Country.
The weekend began as we crossed the U.S./Tecate border on Friday, December 4th. We like to walk across, leaving our cars on the U.S side, which means no waiting in the auto lanes on the way home – pedestrian crossings at Tecate take less than 10 minutes! And, there is no need to drive in Mexico – we arrange to be picked up at the border by our host, Raul Aguiar. This saves us the cost of gas and Mexican insurance.
As we arrived at the Ranch, the magical sight of the courtyard lit by torches and candles was enchanting. Once settled into our cabins, we gathered for a tequila tasting, a specialty of the Ranch. After learning what makes premium tequila so special, we enjoyed a meal of traditional Mexican barbacoa. Not barbeque as we know it, but beef which has been cooked in a deep pit of oak coals for over 14 hours. It is a labor intensive but delicious way to end the day! Tired and full, we spent some moments stargazing in the deep, dark winter sky, then retired for the night.
After a morning snack of coffee and homemade muffins, we explored the ranch and its canyon setting a bit. Rancho La Bellota is a 2,800 acre working horse and cattle ranch with guest accommodations in cozy cabins, delicious and healthy home-cooked meals based on traditional ranch fare, hiking, and horseback riding. Baja Rancho Art has added professional art workshops and wine tasting tours to the mix.
After a tour of the printmaking studio and ceramics yard, and viewing some of the artwork created at the ranch, we were ready for breakfast. A hearty meal of eggs with nopales, beans, quesadillas, fresh fruit, tortillas, and freshly made juice was served. Paola, the cook, always prepares fresh and healthy meals for guests. She is the daughter of the original ranch cook, Carmelita, thus continuing another Ranch tradition!
After breakfast it was time to head out to Valle de Guadalupe and the wineries. We had selected three locations for the day, starting at Las Nubes, an upscale and architecturally modern setting with a great view of the valley. A delicious flight of five wines was offered, and we relaxed on the sunny terrace enjoying the rural scenery.
The wines in this region of Baja are delicious, produced as varietals and blends of Tempranillo, Nebbiolo, Merlot, Barbera, Malbec, Sangiovese, Zinfandel, Petite Syrah, Cabernet Sauvignon, Viognier, Chardonnay, French Colombard, Grenache, Chenin Blanc, Sauvignon Blanc, and Muscat grapes. The unique microclimate of the Valle de Guadalupe offers warm sunny days, which are cooled in the evening by the Pacific Ocean.
Our next stop, Vena Cava, must be seen to be appreciated. Owners Eileen and Phil Gregory were on site during our visit, which was an unexpected treat. Phil, an expatriated Brit, is a busy ambassador for Baja Wines, and travels extensively to promote Baja as one of the finest wine regions in the world. We were honored that he personally served our group, speaking to us for almost an hour about his special blending and aging techniques and ideas for the future of the wine region. The wine here is delicious; some of our favorites in the Valle are found in this unique setting.
Ensenada architects Alejandro D'Acosta and Claudia Turrent designed the Vena Cava property to give visitors a memorable visual experience — not just a taste of fine wine. The ceilings of Vena Cava are made out of salvaged, discarded fishing boats, and walls and doors allow light to enter through discarded/salvaged lenses from a local eyeglass factory.
It sounds crazy, but it all works to create a wonderfully open and unusual space to enjoy great wine. Alejandro is the brother of Hugo D'Acosta, who founded the "Escuelita" in 2004. Many of the Valle's vintners learned their craft at this now famous wine making school. So, you could say that wine is the lifeblood of these siblings – one creates excellent wine, the other creates amazing spaces in which to savor it.
After these two tastings it was time for lunch, and we had reservations at Hacienda Guadalupe, a lovely restaurant with a view of the vineyards. Spicy rabbit tacos, shrimp quesadillas, chicken mole and fresh salads were among our selections, and none disappointed. The freshly made lemonade was a counterpoint to the "vinos tintos y rojos" we'd been sampling.
After our leisurely lunch, we headed to our third and final vineyard on our tour, Bois de Tres Cantos.
The name refers to a vineyard surrounding a medieval monastery, and the property is designed with a "modern monastery" in mind. Again, very creative repurposing of glass, lumber, and steel were used in the construction of this Minimalist style.
The design inspiration comes from Mayan, Romanesque and Indigenous cultures, and is visually exciting. The wines did not disappoint either, as we sampled three of their 2013 vintage reds.
As we returned to the Ranch, we knew were in for another dining treat. A lamb had been on the outdoor rotisserie for 5 hours, and yielded a most delicious dinner. As we shared our thoughts of the day around a bonfire later that evening, we were fully relaxed and ready for bed. We wanted to be ready to Sunday's horseback ride.
The Criollo horses at Rancho La Bellota are surefooted and excellently trained. They will accommodate an experienced rider as well as a first timer. While Raul jokes that he matches guests "who have never ridden with horses that have never been ridden", we always know he has selected an excellent horse for each rider's skill level.
Sunday was a beautiful warm day, and after breakfast we headed out for a 2-hour ride before lunch. One guest had never been on a horse before, but loved every minute of the ride, which took us up and out of the canyon and along the ridge for some stunning views of the surrounding ranchos. You can literally see for miles, unobstructed by electrical lines, houses, cell towers, roads, etc. It is what California must have looked like before any of us arrived on the scene.
We knew that after lunch (tasty machaca tacos) we would be leaving the Ranch, so I think we dawdled just a bit, not really wanting to go. But, as we said our goodbyes to the staff and loaded up luggage for the ride to Tecate, we felt that we had once again discovered something new about the region we live in. Baja is California, just less crowded, more accessible, and I'd say a bit more fascinating.
Please visit our website, bajaranchoart.com for details on our 2 and 3 day trips to Baja's Ranch and Wine country. Click the Upcoming Events page to see what's new for 2016, and subscribe to our newsletter for information on upcoming wine trips and art workshops. Or, create your own group and let us customize a tour of this magical region of Baja – just minutes south of the Tecate border, but a world away!