Baja Wine Tasting Tours
Valle de Guadalupe, Baja's wine country
The Guadalupe Valley is the jewel of Baja's wine country, producing over 90% of all wine consumed in Mexico. The region offers visitors a wide variety of attractions ranging from family owned, organic, and boutique wineries to large-scale producers. Valle de Guadalupe's rustic setting and magical atmosphere is approximately 25 minutes from our home base at Rancho La Bellota, a 2,800 acre horse ranch in an oak lined valley just north of Baja's scenic "Ruta del Vino" (wine route). Situated between Tecate and Ensenada, the wine country is approximately 1½ hours south of the border.
TOURS BASED ON YOUR INTERESTS
---
Gather your friends together and let us create a wine tour for you!
Baja Rancho Art offers flexible 2 day/2 night excursions to explore the scenic wine country and culture of northern Baja California. Wine tastings, winery luncheons, farmer's markets, artisanal cheese shops, indigenous culture, nature retreats, and horseback riding are waiting for you to explore and enjoy. Baja Rancho Art can arrange a tour to meet your interests – we know many of the vintners, and all welcome us for tours.
excellent values, lovely settings
---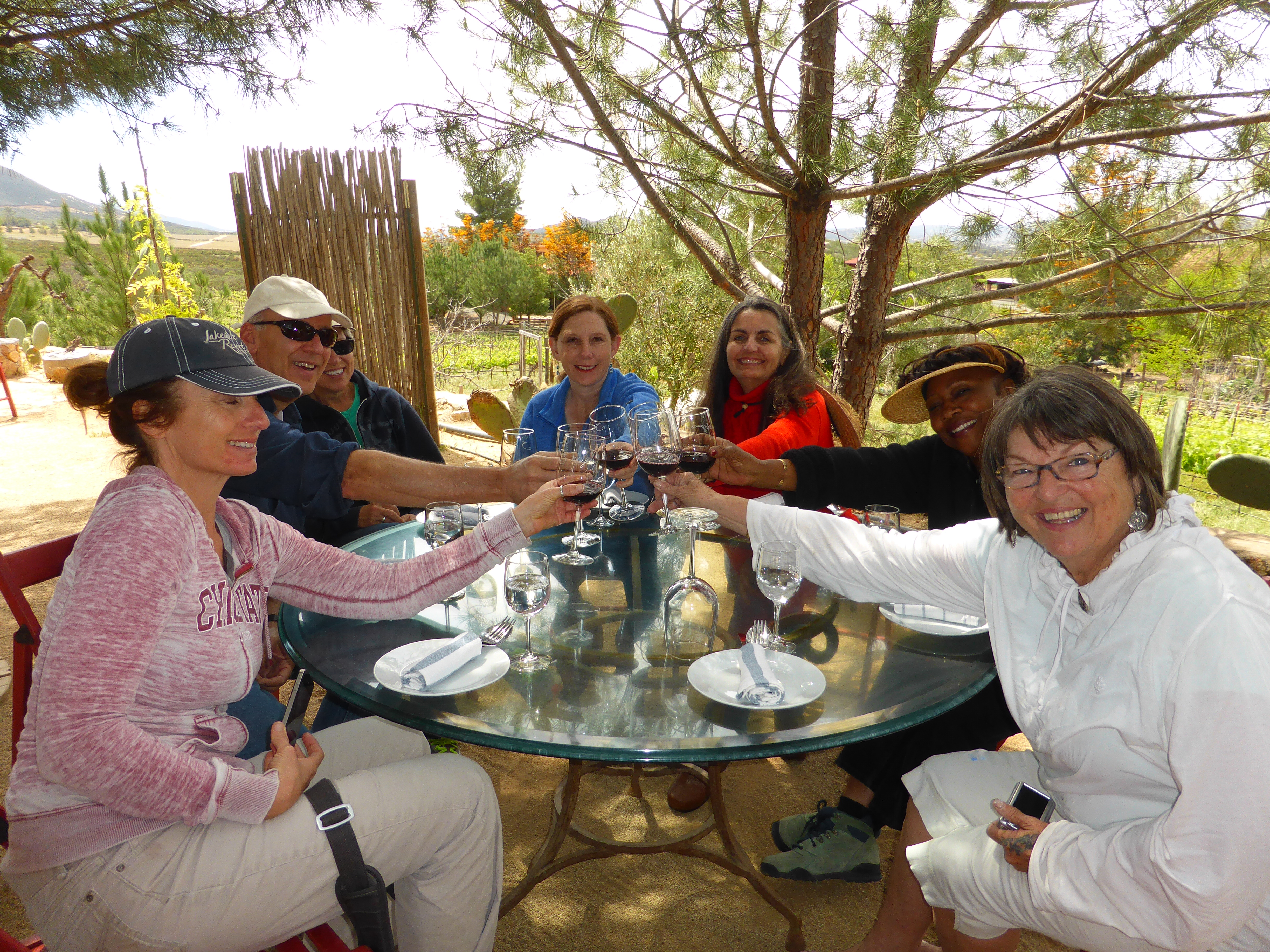 Most winery luncheons offer locally sourced, BajaMed cuisine, and are excellent values in lovely settings. Most require reservations, and we take care of that for your group; let us know your tastes, and we will suggest several options for your group based on your price point. The cost of wine tastings and/or winery luncheons is paid on your own.
A visit to the most scenic wineries in Valle de Guadalupe for wine tasting, gourmet luncheons, painting or photography can be arranged for groups of five or more. Two nights lodging (double occupancy) in cozy cabins, all meals at the Ranch, horseback riding and all transportation in Mexico is included – saving you the cost of Mexican auto insurance.
Gather your friends together and let us create a wine tour for you!
Baja Rancho Art can arrange a wine tour to meet your interests. Please contact Ellen Parry, Director of Baja Rancho Art, at bajaranchoart@gmail.com for more information.