Let the backdrop of rustic ranch life
in Baja California be your creative inspiration!
Helen Shafer Garcia - Watercolor, Patio Study
Baja Rancho Art offers art workshops in painting, printmaking, ceramics, and photography at
Rancho La Bellota
and in beautiful Valle Guadalupe, Baja's wine country. Baja Rancho Art owners, Ellen Parry and Liz Sears, and our Ranch hosts, Raul and Caroline Aguiar, welcome you for a relaxing and creative visit. Horseback riding, winery tours, luncheons, and tastings can also be reserved during your stay.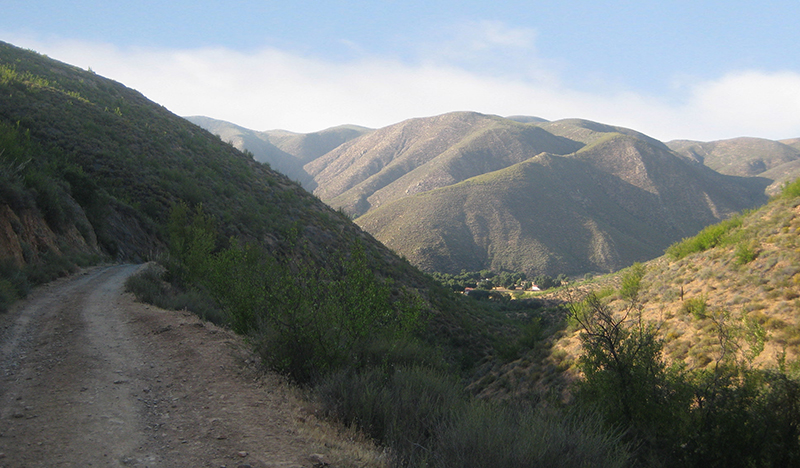 The 2,800 acre ranch sits in an oak lined valley just north of Baja's scenic "Ruta del Vino" between Tecate and Ensenada, approximately 50 miles south of the border.
It is a working ranch, as you would have found in Baja California over 100 years ago. Oaks and sycamore trees, seasonal creeks and springs, rugged hillsides, boulders, wildlife and livestock, and the local wineries provide inspiration for painting, sketching, printmaking, ceramics and photography.
The owners are a wonderful couple, Raul and Caroline Aguiar, and they built the ranch with the help of many friends twelve years ago. Raul is a third generation rancher. He has a strong drive to keep to original methods, and to keep the history of Baja ranching alive while so much of the coastal area is being developed and lost forever.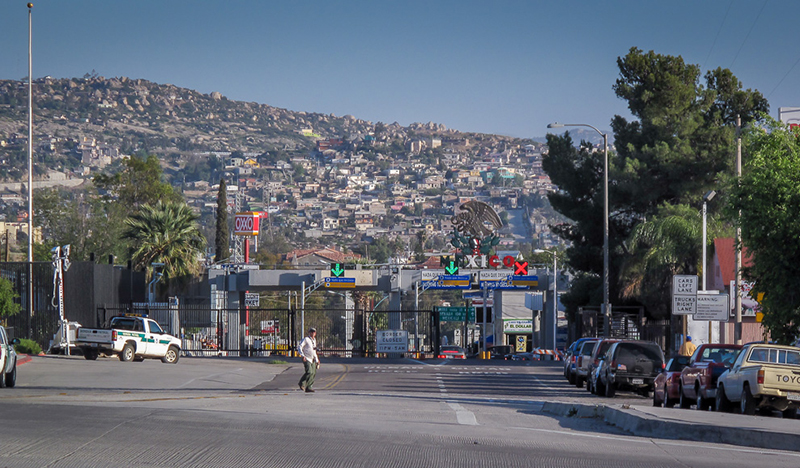 We meet in La Mesa to carpool to the U.S.–Tecate border, then park our cars in secure lots on the U.S. side. This allows us to cross back in just minutes at the end of our stay. We are driven to the ranch by our hosts, saving you the cost of Mexican auto insurance and gas.
A passport is required for re-entry to the U.S. More information can be obtained at Crossing U.S. Borders.
"The border crossing was EASY! I felt so pampered by the ride to and from the ranch."
— Paula A.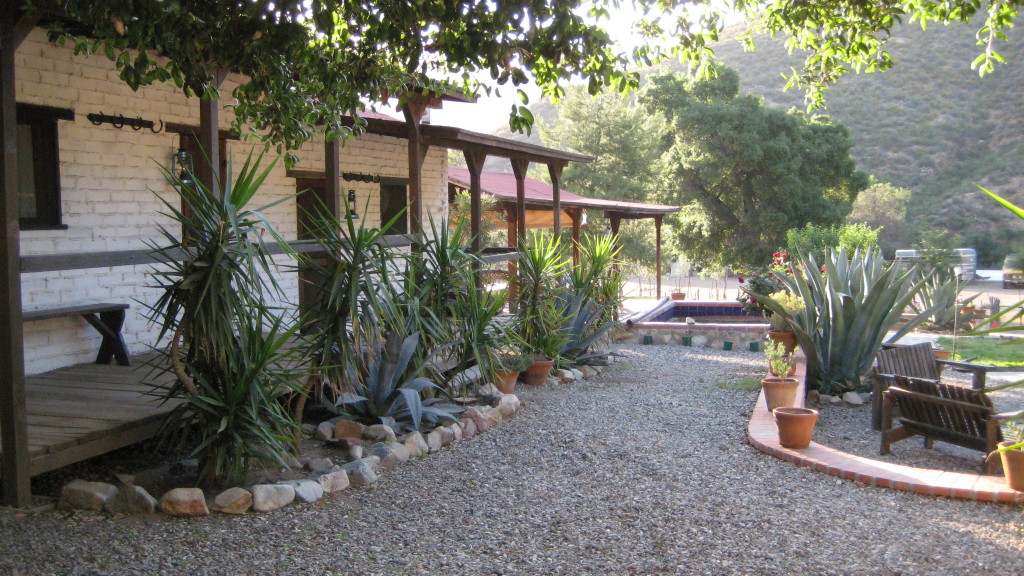 Accommodations are charming guest cabins with private bathrooms. Cabins are booked double occupancy. All ranch meals are included in your visit — healthy, delicious and traditional, served family style in the candlelit dining room. Off-site meals and wine tastings are paid by the guest (except on Wine Weekends). Feel free to browse through the library in the rec-room and try your hand at a game of pool, or enjoy the sitting area with friends for fun and good conversation.
"The accommodations were extremely charming and clean."
— Nicole T.
There are many scenarios to choose from. Our hosts can transport us to any painting or photography location, on or off the ranch, though we often simply take a short walk and find a beautiful spot to spend the day.
Our new printmaking studio (indoors) and clay studio (outdoors) provide our guests with all the equipment they need to create original works of art.
"A little piece of paradise with a genuine feeling of old fashioned welcome, the Rancho experience was delightful, comfortable and sparked my creative instincts! "
— Ellen S.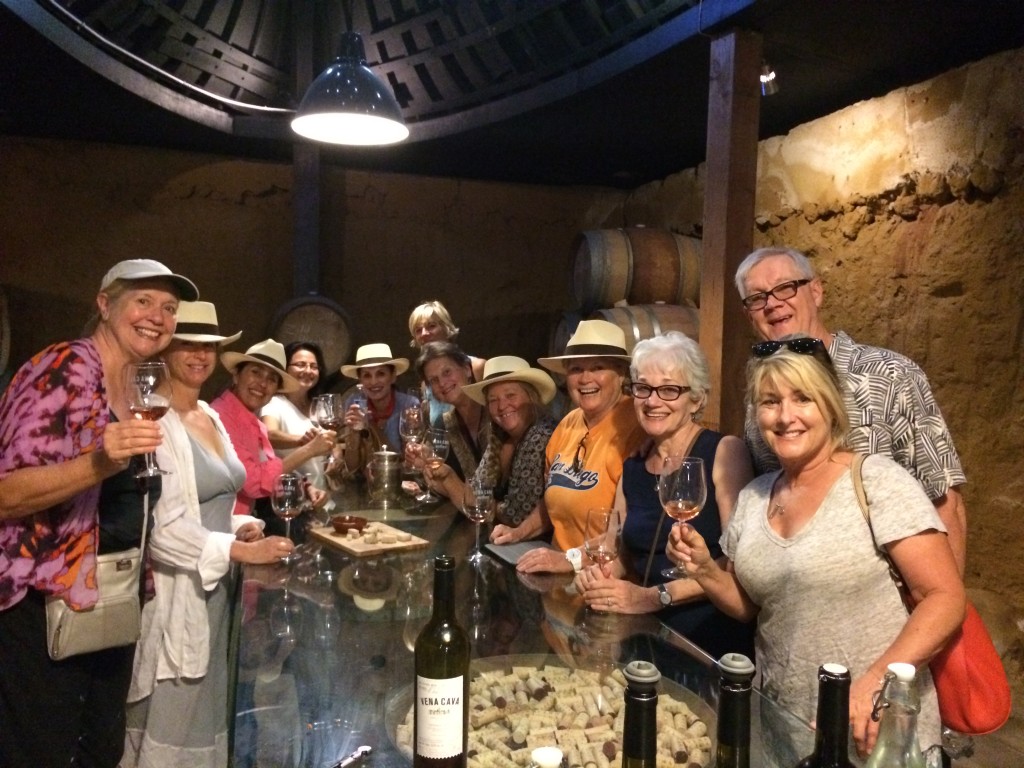 A visit to the wineries for painting, photography, sketching, tasting, or lunch can be arranged for a group of three or more with prior notice. The wineries are approximately 25 minutes away and offer very inspiring landscape and architectural subjects. Regional wines complement meals ranging from casual to gourmet. Off-site meals and wine are paid by the guest (except on Wine Weekends).
View More →
Guests supply their own art materials unless stated otherwise. Beginner art materials are available at the Ranch at cost, experienced artists should bring their preferred medium.
The ranch is certified by the Mexican government as a destination resort for horseback riding and bird watching. Osprey, various owls, hawks, and quail are plentiful. A pair of nearby nesting golden eagles can be seen on ranch property from time to time. Hiking trails are extensive and levels range from easy to difficult. There is a also spring-fed pool by the cabins for cooling off after a day "in the field".
For travel arrangements or information about our upcoming creative workshops, please visit the Upcoming Events page or contact Ellen Parry at bajaranchoart@gmail.com
To learn more about Rancho La Bellota, please visit www.rancholabellota.com
Don't miss out on future workshops.
Subscribe to our newsletter for updates on our art workshops, riding adventures, and winery tours in beautiful Baja California. For more information, please contact Ellen Parry, Director of Baja Rancho Art, at bajaranchoart@gmail.com.