Our April Trip was Fun-Filled and Productive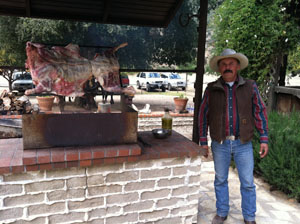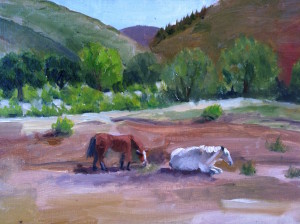 Baja Rancho Art and Rancho La Bellota hosted a group of nine artists and riders last weekend and we all had a wonderful, productive and relaxing time! This was one of our open studio events, with two oil painters working alongside several acrylic artists.
Ranch owner Raul met us at the border, and when we arrived at the ranch Caroline was there to greet us and show off their latest project – an on-site native plant nursery. The artists in the group were already thinking of the plants as potential subject matter! Caroline shared some fascinating information about the medicinal and dietary properties of some and the decorative potential of all of these drought tolerant varieties. Soon it was time for carne asada dinner and relaxing by the fire.
Friday morning after a hearty ranch breakfast, we were driven to Tres Mujeres Winery for a plein air painting session, wine tasting, and a delicious 6 course gourmet lunch. Ivette and Iseme are always the perfect host and chef, and we enjoyed sitting on the patio working on our canvases while lunch was being prepared in the open-air kitchen. Mike H. created a lovely vineyard view in oil. Kathy, Nell, Paula and Deanna set up on the patio to study the bougainvillea draped over the arbor.
The afternoon was spent riding horses and relaxing before a dinner of steak or chicken ranchero – both went well with the local wines we bought at Tres Mujeres!
Saturday morning was another painting opportunity, and Paula, Mike, Kathy, Nell, and Deanna set up easels up the canyon to study a beautiful sycamore tree near the spring. See our gallery page for results – again, Mike's canvas captures the beauty and tranquility of the scene.
Saturday afternoon we welcomed San Diego plein air painter Stuart Burton and his wife Cathy. Stuart came down to plan his upcoming workshop, to be held at the ranch June 12 to 15. Afterward, we all went for a group ride to look for the soaring Golden Eagles which nest nearby. While didn't spot them, we were treated to endless vistas of the wine country from atop our excellent ranch horses. Boy, can they climb the hills! Our less experienced riders felt at ease immediately on their steady and safe mounts.
Saturday night dinner was a real ranch treat – hand-cranked rotisserie grilled lamb (raised on the property) and cooked to perfection. Yum! Our vegetarian and vegan guests didn't miss out either…the ranch prepared delicious grilled veggies, beans and side dishes for them.
Sunday brought the warmest day of the trip, and while some of us went riding, others wanted to put final touches on their paintings, and Mike got a great start on his third canvas of the weekend…a view of horses in the pasture. Can't wait to see how that one finishes up!
After Sunday lunch we reluctantly began to pack for home; it's always hard to leave the ranch. After 3 days off the grid we prepared for re-entry to San Diego and our real worlds. While we all agree San Diego is paradise, Rancho La Bellota is certainly a little slice of heaven. Thank you, Raul and Caroline! You've created a beautiful refuge for the arts to flourish.