Art and Wine, Oh My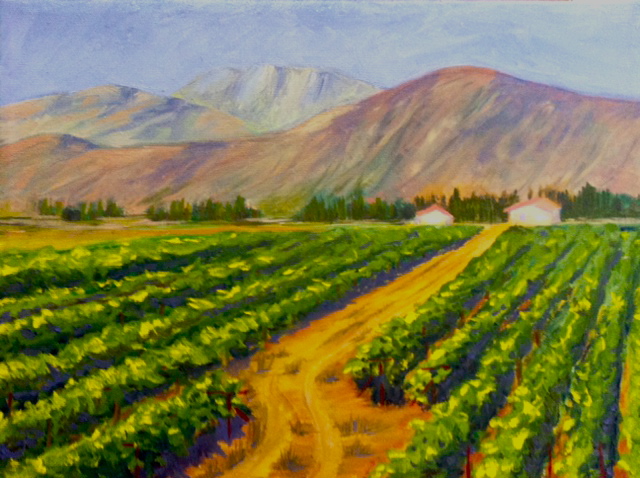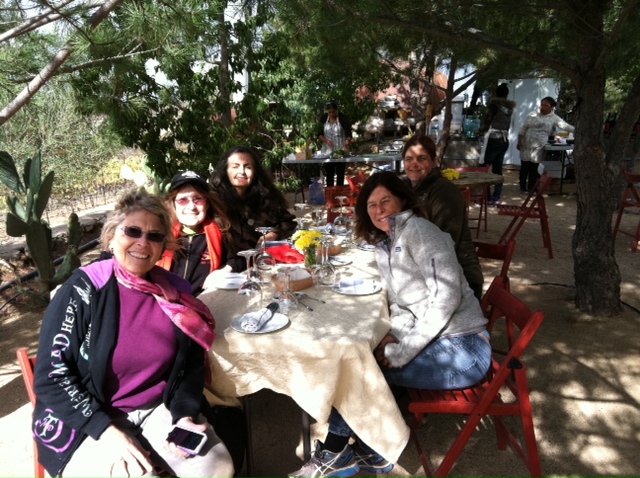 Five painters and a photographer were among our November workshop participants. We all enjoyed a weekend of painting/shooting in the beautiful vineyards of Tres Mujeres Winery (Vinacola Tres Mujeres), and relaxing at beautiful Rancho La Bellota.
Co-owner Ivette welcomed us with a wine tasting, and then it was out to the vineyard to create in our varied mediums – watercolor, acrylic, and film.
After several hours of artful endevours we were called to the table for a gourmet six-course lunch, starting with a choice of appetizer, soup, two salads, entrees of fish or lamb, cheese plate, and dessert, all local and freshly created by Iseme in her outdoor kitchen. Tres Mujeres wines complimented the meal perfectly. After such a productive morning and delicious meal, we headed back to Rancho La Bellota to relax, hike, and think about dinner! Delicious chiles rellenos were the hit of the evening.
After a casual Sunday morning horseback ride and some horse sketching, the group gathered to watch a special event. Our photographer in the group, Eileen, wanted to shoot several of the horses galloping, and owner Raul was more than accommodating. He and ranch hand Gabriel rounded up about 20 horses and lead them in a controlled stampede right past where Eileen was safely stationed, so she could get some action shots. Not just once, but 3 times to make sure she got what she came for. Eileen commented later that "that's the sort of thing you just can't do at home…who owns a horse ranch? Who would do that for you Amazing."
That's why Baja Rancho Art keeps coming back to Rancho La Bellota – the unique setting, hospitality, and the Aguiar's desire to help make each guest's visit creative, productive, and memorable.