Spring landscape painting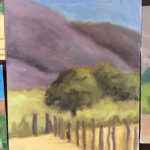 Analyze a composition quickly, mix color with confidence
Jeff Yeomans is one of California's top Plein air and studio painters. Jeff teaches at the Athenaeum School of Arts in La Jolla and gives workshops en plein air (outdoors) at scenic spots around Southern California. This was Jeff's 5th workshop with us.
Working "en plein air" forces a painter to analyze a composition quickly, mix color with confidence, and approach the painting with energy as the light and color within the landscape changes before our eyes. In nature, every color is affected by the colors around it, so the color you see is unique to the lighting of the moment.
Friday morning, Jeff outlined specific goals for the group of 10 students in our workshop. "Keep it simple" – composition first, then values, then color – starting with 3 (alizarin crimson, ultramarine blue, cadmium yellow light), plus white. From these, he mixes orange, green, and purple. These 6 colors plus white can be mixed into every color you see in nature.
Soon we were seeing things quite differently as Jeff worked with each individual.
After lunch we had a quick critique, and left for Valle Guadalupe, Baja's wine country. We visited two of our favorite wineries, Castillo Ferrar and Vinos de la Reina, followed by a visit to an artisanal cheese shop.
Saturday morning Jeff's demonstration was a view up the canyon towards the spring. Each guest captured an essential but different aspect of the beauty before us.
Some of us went riding after lunch, others chose to paint… the patio was the subject for an impromptu afternoon session.
By Sunday morning the 10 painters had amassed an impressive group of paintings in 3 days.
As we packed up our wet canvases, easels, and gear on Sunday, we wished we could stay. Imagine the possibilities if we had all the time in the world to engage the artist within us! We look forward to Jeff's return in 2019!