Plein Air Painting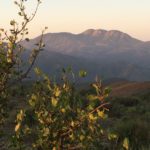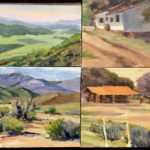 Our 3-day painting workshop featured painting lessons at led by Jeff Yeomans, one of San Diego's top Plein air and studio painters. Jeff teaches painting alla prima in oil at the Athenaeum School of Arts in La Jolla and gives workshops en plein air (outdoors) at scenic spots around San Diego and Laguna Beach, CA. Jeff is one of Southern California's foremost plein air painters of landscape and the California scene.
Jeff and the group of 9 painters arrived at the ranch Thursday afternoon to work in oils or acrylics. Jeff had specific goals for our workshop. He reminded us to keep it simple – think about composition first, then values, then color. Lots to consider as we sat by the bonfire, then headed to our cabins for the night.
Working "en plein air" forces a painter to analyze a composition quickly, mix color with confidence, and approach the painting with energy as the light and color within the landscape changes before our eyes. Artists working outdoors must capture the scene in about 2 hours…as the sun and light intensity changes.
Friday morning, we gathered for coffee and muffins to watch a demonstration on mixing secondary colors, color theory, and composition. Jeff chose the tack shed, with its red roof and rustic walls, to focus on for this demo.
Jeff's approach is simple; using just 3 colors (alizarin crimson, ultramarine blue, and cadmium yellow light), plus white, on his palette. In nature, every color is affected by the colors around it, so the color you see is unique to the lighting and atmosphere of the moment.
Learning to mix accurate colors is a major topic of study for Jeff, and he is an expert. By lunchtime, we were seeing things quite differently, and our canvases were the better for it. Jeff took frequent breaks from his canvas to work with each of us individually. He explained that nature is full of colors, but most of them are slightly to fully neutralized versions of the pure pigments that come out of the tube of paint. Being able to quickly neutralize these colors is essential to plein air work. We learned to mix Ultramarine blue and white into a "mud" and use it to create these subtle neutralities we were seeing in the scene in front of us.
We were ready when the lunch bell range. After tostadas, we had a quick critique, and then headed to the wine country, Valle Guadalupe. We had selected two of our favorite wineries to visit, Mogor Badan and Vene Cava, followed by a visit the cheese shop of Familia Samarin, with a 100-year history in the Valle.
Vena Cava gives visitors a memorable visual experience. The ceilings are made out of Mexican fishing boats, and the entry doors are made of eyeglass lens blanks which bring in light, all locally sourced from salvage yards in Ensenada. It all works to create a light and open space to enjoy great wine.
A delicious dinner of rotisserie lamb awaited us after relaxing a bit in the late afternoon.
Saturday morning brought more sunshine and more inspiration. Jeff's demonstration was a view up the canyon towards the spring. We were able to get on our easels sooner this morning, due to yesterdays through explanation of composition and color mixing. Before long we had canyon scenes beginning to emerge. I'm always amazed how several artists can paint the same scene, creating distinctly different paintings, each capturing an essential but different aspect of the beauty before us.
Lunch was ready, and while some of us took a break, others in the group stayed to paint the caretaker's cabin, the tack shed, the oaks themselves, and the sheep in the corral; all offered intriguing subjects for the painters.
Some of us went riding after lunch, others chose to work at the easels… the patio was the subject for an impromptu afternoon session. Riding is always an option for guests at our workshops, as we like to highlight the diversity of activities this region of Baja has to offer. Everyone has a great time, from beginners to experienced riders – Raul always takes care of the guests and matches them to the perfect horse.
Dinner was a welcome treat. Raul's delicious barbacoa – beef cooked for hours over an oak fire buried in the ground. Served with mashed potatoes and steamed veggies, it was truly a gourmet meal after a day of pure creative energy. After dinner, we sampled some reserve tequilas, a fine treat.
Sunday morning, four us drove up the hill to catch the sunrise, and try to capture the fast changing dawn on canvas. Jeff's brush was working furiously and we tried to keep up! After about an hour we headed down for coffee and muffins, and to take a look at our efforts. We began to amass all the canvases that had been finished during our 3-day workshop…very impressive!
As we packed up our wet canvases, easels, and gear on Sunday, we were wishing we could stay. It's always this way – folks arrive at the Ranch unsure of what to expect, they become instantly at ease, enjoy themselves and create wonderful things, and never want to leave. If only we had all the time in the world to engage the artist within us. Imagine the possibilities!
Jeff's direct teaching and his skill with his brush inspired all of us to create much more than we had anticipated, and we were all proud and pleased. We can't wait for him to return in 2017!
Please visit our website, bajaranchoart.com for details on our 2 and 3 day trips to Baja's Ranch and Wine country. Click the Upcoming Events page to see what's new for 2017, and subscribe to our newsletter for information on upcoming wine trips and art workshops. Or, create your own group and let us customize a tour of this magical region of Baja – just minutes south of the Tecate border, but a world away!