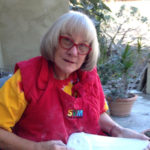 Carol Catalano Webb, Artist, Printmaker, Owner of Two Artists in Love Studios
Carol Catalano Webb studied at Chouinard Art Institute and at San Diego State University, studying drawing, printmaking and painting earning BA and MA degrees. She did further studies at the San Diego Art Institute in digital art. Her works include: digital paintings, lithography, relief prints, prints on clay, tiles and mosaics and marble sculptures. Carol's first love is printmaking.
Carol has a delightful way of interpreting the world around her. Her sketchbooks inspire her work using many combinations of printmaking techniques such as etchings, relief prints, and monoprints. A recent trip to Japan has inspired Moku Hanga (wood block) prints. She also paints with oils, acrylics, and watercolors. She enjoys the traditional practice of Chinese brush painting and is comfortable mixing medias. Inspired by her love for Christopher and his passion for sculpture, she now sculpts stone, (small pieces) and creates one-of-a-kind mixed media mosaics from clay.

Christopher Daren Webb, Potter and Ceramic Sculptor, Owner of Two Artists in Love Studios
Christopher Webb grew up in Modesto California. He studied Fine Arts at Chico State University while earning 21 All-American titles is swimming. He is both a sculptor and potter with over twenty-five years of teaching experience. A dedicated and involved member of the California Art Education Association Christopher continues to share his expertise with fellow teachers, leading clay workshops for ceramic educators, art professionals, and novices throughout California.
Christopher's masterpiece- 'The Slow Dancer' introduces us to his skill as a sculptor. It was originally done with Colorado Marble and is now available in a limited edition bronze which is for sale. He works with stone, clay, bronze and creates acrylic paintings. He is currently completing a collection for an upcoming studio open house this fall.