New Ideas with Water-based Media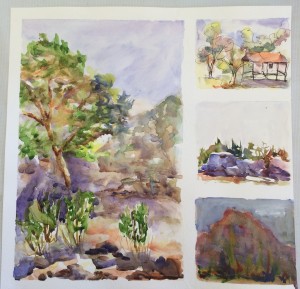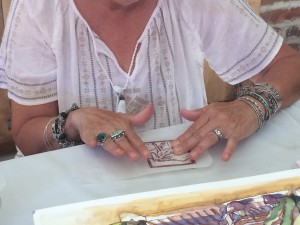 Helen Shafer Garcia is a painter, mixed media, found object and assemblage artist and award-winning illustrator. Her whimsical style shows her love for nature found in the landscape, flora and fauna of a particular region. She's currently working with watercolor, pastel, and mixed media to create contemporary nature -inspired images on paper along with a series of journals showcasing the Icon folklore she discovers in her travels.
Helen brought a group of watercolorists to the Ranch to relax and paint among the oak and sycamore trees of Bellota Canyon. Some guests were new to the media, others brought more experience, but all of us moved forward in our skills during this very enjoyable and instructive weekend.
After a welcoming margarita and carne asada for dinner, Helen discussed our goals for this 3-day workshop. Her approach is very simple – "look for what inspires you – the unexpected, the colorful, the essence of a thing or place".
Friday morning we filled our coffee mugs, grabbed a warm muffin, and joined Helen on the sunny patio for a drawing session. We were encouraged to try contour drawings of some of the various plants in the garden area. The assorted succulents made interesting models, and many of us created blended compositions of 2 or 3 on a page, using a water-soluble pen.
When we were satisfied with our drawings, we washed clean water onto the lines, and they began to bleed and soften, thus creating the first layer of color on our paintings without even touching the watercolor pigments yet.
For me, this was a relaxing way to start… to get past the empty whiteness of the paper without actually thinking about painting yet. While I have dabbled with watercolor over the years, I find it to be a challenging medium. It's like painting without a safety net! Watercolor generally cannot be removed or "erased" once placed, so you need to really plan out the colors, values, shapes, and layering from the beginning, or just decide to get happy with your results. It can take years to achieve true mastery in this medium. But Helen is an outstanding instructor, understands the potential of watercolor, and had truly set us up to succeed. I loved my first layer! After washing in a second layer of color, it was intriguing to watch the interaction of the ink (from the pen) and the pigment (from the brush). It was easy to just drop in some color and let it flow within the boundary of the line work. In just a couple of hours, we had some very nice botanical studies to work from.
The lunch bell rang soon after, and we talked about our morning drawing/painting session and our trip to the wine country that afternoon.
After lunch, we headed to Valle de Guadalupe for wine tasting and the village of El Porviner.
A visit to Las Nubes and Vena Cava wineries was followed up with a stop at the cheese shop for some happy hour treats back at the Ranch, where a delicious dinner of carne steak ranchero awaited us.
Saturday morning we found Helen eyeing the caretaker's cabin, and soon we were all working on this simple architectural subject.
The white brick of the cabin catches the morning light beautifully, and it tends to cast a golden glow upon this simple building. After some sketches, we were encouraged to use the cabin as a backdrop to the painting of the succulents we'd done the day before – a great idea, since it brought two simple ideas together into one, more complex composition. The flow of the watercolor pigments married the two subjects beautifully.
Before we know it, it was time (again) for lunch. That's one of the pleasures of staying at the Ranch for a workshop. We don't need to drive to get a meal…it's all prepared for us, on our schedule. When inspiration strikes, we can even have it delivered right from the kitchen!
The afternoon was a beautiful, sunny one and brought more inspiration. We took a short hike, and our painting gear and chairs were delivered to a spot under the shady oak and sycamore trees for an alla prima session. Painting alla prima means going right into the pigment, often with no sketch whatsoever. Building upon the energy and experience of the morning session, we boldly went forward with looser, but more confident brushwork, studying the composition of the branches, trunks, and leaf structures of these very old models. Fall colors were beginning to show in the trees, and provided the variety we love in landscape painting.
Then came perhaps the most memorable moment of the weekend, and one we laughed about at the dinner table that night. After a couple of hours in the canyon, enjoying the beauty and sounds of nature, we started hearing music.
In a few minutes, we were delighted to see Raul coming through the trees with a tray of freshly made cantaloupe margaritas – unbelievable! It turned out he had played the music to cover the sound of the blender, working off a generator in the back of his truck…we all agreed they were the most refreshing treat we'd ever had while "working in the field"! Another reason why we love workshops at the Ranch…
Later in the afternoon, Helen showed us how to create some small vignettes on our paintings, two or three little paintings along the margins of the tree studies from the canyon.
Little acorns, flowers, rocks, leaves, and dragonflies began to fill the edges of the morning studies. It turned simple tree paintings into stories; visual journals about a special time and place.
Our dinner Saturday night was succulent grilled lamb, one of my favorite meals. Accompanied by fresh veggies, salad, and potatoes, it is a gourmet treat all the guests enjoy. That evening we talked around the bonfire, laughed about the margaritas, gazed at the stars in the dark sky, and went to bed feeling that we were beginning to gain confidence with watercolor.
Sunday morning, some of us went for a horseback ride while others painted, read, hiked or lounged around the pool. It was a warm morning and suited to just about anything. So perfect, we didn't want it end, and Helen offered to show us one more trick up her artful sleeve. After brunch, we gathered in the barn to carve a small stamp, about 3" square, based on any of the forms that we'd been admiring during our stay.
Helen chose to carve a simple horse, while others carved a cactus, a horseshoe, a star, etc. When done, the stamps were inked and printed onto rice paper and placed onto the paintings we'd made the days before. They acted like a signature or a watermark, and made a lovely finish for the artworks. It was a beautiful ending to a beautiful, creative, fun, and tasty workshop weekend. Thanks, Helen!
As we packed up to leave the Ranch, everyone agreed we'd learned a lot and had lovely paintings and memories to take home. We were wishing for just one more day, but we'll just have to return when Helen comes back in May of 2016.