Printmaking Workshop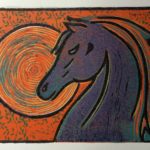 Artist/Instructor Carol Catalano Webb and her husband, ceramic artist Chris Webb joined us with 6 guests to learn the art of relief printmaking. This pair of artists always has boundless creativity to share with us!
After dinner Thursday evening, we reviewed the schedule for Friday while enjoying a bonfire. In the morning, Carol would demonstrate linoleum block carving, the use of stencils, and color choices. Students would have time to plan their designs, transfer and begin to carve the first layer of the block for printing. Then we'd take a break and head to the wine country in the afternoon.
Friday morning, after coffee and muffins, Carol asked her group to wander the ranch a bit and photograph interesting things to use as subjects for prints. Several guests enjoyed photographing the sheep herd, the gardens, the horses and tack shed, and vintage farm equipment around the ranch. Later, over breakfast, Carol reviewed the photos and made suggestions for print compositions. Then she took her group in the studio.
As the printers began to design their printing plates from their collected images, Carol gave a color mixing demo, showing that all colors can be made from red, yellow, and blue. Her prints show how mixing and juxtaposition of color can create very dynamic designs. The printers set about preparing their printing plates, using simple tools and stencils cut from their individual designs.
Lunch was homemade chicken burritos with trimmings, and afterwards we set out to visit the Valle de Guadalupe, Mexico's premier wine producing region. We visited two of our favorite wineries, Vinos Garza and Adobe Guadalupe, to experience two ends of the wine producing spectrum. Vinos Garza is a boutique-style winery in a beautiful hilltop setting with lovely views of the wine valley. Their three selections were all delicious and some of us made purchases to take back to the ranch to enjoy with dinner.
Adobe Guadalupe is in the heart of the Guadalupe Valley and has just completed their new tasting room. The setting contrasts the hilltop site of Vinos Garza; at Adobe Guadalupe, you are actually inthe vineyard. Their flights of four tastings offer a range of mid and premium whites, reds, or a combo tasting. After a stop at the Samarin Family Cheese Shop for baked cheese with chilpotle chiles, we headed back to the ranch.
Friday night dinner was a ranch specialty – spit-grilled lamb, grilled veggies, rice and beans, and homemade salsa. It was a perfect evening topped off with another bonfire in the patio. We talked over Saturday's plan – working on our prints in the morning, lunch, then a horseback ride. After some stargazing we headed to our cabins; relaxed and ready for sleep.
Saturday another delicious ranch breakfast got us fueled for the studio. Carol led the group through the process of layering colors and cutting stencils to preserve colors already on the prints. By the time the prints were finished, each one had between 3 and 6 layers of color, creating very dynamic compositions. Since they were all subjects from the ranch, there was great cohesion in the series, and everyone was thrilled with the results. Prints were left to dry, to be signed and matted Sunday morning.
After lunch we were off to the stable to meet our horses; the cowboys had rounded them up from their 2,800 grazing area. Each guest was matched with the perfect horse based on their riding experience, from "none" to "I used to ride" to "I ride often". We set off to enjoy the hilltop views. Everyone had a great time, and we returned ready for happy hour.
Since Carol's husband, Chris Webb, is a ceramic artist, we were able to try something a little different with our print designs. As a bonus activity, guests were invited to make a resist image on a ceramic tile, which would be fired in our raku kiln. Designs were drawn on the tiles with wax, then the tiles were dipped in glaze. Since the glaze cannot adhere to the waxed lines, they would appear as black lines once the tiles were fired.
Saturday's dinner was delicious – chile rellenos stuffed with local cheeses. It paired well with some of the wines purchased on Friday. After dinner, we reviewed our prints, and thought about titles to be added when fully dry.
Sunday morning we prepared the raku area of the clay yard, then fired up the kiln with the tiles we'd painted the day before. Raku is a fast firing process, and after about 45 minutes the tiles were ready to remove from the kiln. The kiln was opened and working in teams, we removed the red hot items and placed them in barrels of sawdust. The sawdust ignited immediately, was allowed to burn for a few moments, then the fire was smothered by putting a lid on the barrel.
After cooling, the tiles were removed and the black and white images were a complete contrast to the colorful block printed designs of yesterday.
After brunch on Sunday, the prints were matted, titles were added, all were photographed, and Carol offered some critique on our efforts – all lovely expressions of our beautiful setting. Everyone judged the workshop to be educational, creative and fun we're looking forward to Carol Catalano Webb's return to the ranch in 2018 to further explore techniques in Printmaking.
We hope you'll consider joining us for one of our creative, productive, inspiring and fun workshops at the Ranch; please visit our website, bajaranchoart.com to see our schedule of Upcoming Events.