Printmaking with Carol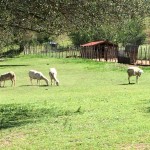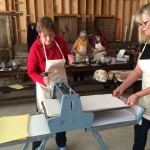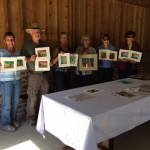 We've been very excited about the new barn and studio, and here are some of the highlights of last weekend's Printmaking Studio at the Ranch. . Artist Carol Catalano Webb came with her husband, ceramic artist Chris Webb to christen the studio with our guests, 4 of whom would be learning printmaking for the first time. Chris would also be test firing our two new ceramic kilns. This pair of artists has boundless creativity to share with us!
After arriving for dinner Thursday evening, we all enjoyed a bonfire and talked about the schedule for Friday – Printmaking demonstrations followed by hands – on in the morning, then a trip to the wine country in the afternoon.
Friday morning, after coffee and muffins, Carol asked her group to wander the ranch a bit and photograph interesting things to use as subjects for prints. Several guests enjoyed photographing the sheep herd and the ram, and since 2015 is the Chinese year of the ram, this sparked plenty of ideas. Later, as we enjoyed a full ranch breakfast, Carol reviewed the photos and made suggestions for print compositions. When she took her group in the studio, Chris got busy in the kiln yard behind the barn. We wanted to test fire our new raku and bisque kilns and plan a pit firing demonstration.
As the printers began to design their printing plates from their collected images, Carol gave a color mixing demo, showing that all colors can be made from red, yellow, and blue. Her prints show how mixing and juxtaposition of color can create very dynamic designs. The printers set about preparing their printing plates, using simple tools and stencils cut from their individual designs.
Lunch was homemade chicken burritos with trimmings, and afterwards we set out to visit the Valle de Guadalupe, Mexico's premier wine producing region. We visited two of our favorite wineries, Tres Mujeres and Monte Xanic, to experience two ends of the wine producing spectrum. Tres Mujeres is a small, boutique style winery started by three women who learned wine making in the Valle at La Escuelita, a famous local school for vintners. Being a small operation in a very organic setting, Tres Mujeres offers tastings in the cava, or cave, where we are often served by Ivette, one of the vintner/owners. Their three selections were all delicious and some of us made our purchases to take back to the ranch for dinner.
Monte Xanic showcases a beautiful view of the Guadalupe Valley from its airy tasting room perched above a small lake. The contemporary architecture is a counterpoint to the "homegrown" feel of Tres Mujeres. Their flights of five tastings offer a range of mid and premium whites, reds, or a combo tasting. After a stop at an artisanal cheese shop for baked cheese with chilpotle chiles, we headed back to the ranch.
Friday night dinner was a ranch specialty – carne asada, grilled veggies, rice and beans, and homemade salsa. It was a perfect evening topped off with another bonfire in the patio. We talked over Saturday's plan – switching our horseback ride to the morning since the forecast was for a warm afternoon. After some stargazing we headed to our cabins; relaxed and ready for sleep.
Another delicious ranch breakfast started our Saturday, then it was off to the stable to meet our horses; the cowboys had rounded them up from their 2,800 grazing area. Each guest was matched with the perfect horse based on their riding experience, from "none" to "I used to ride" to "I ride often". We set off to enjoy the morning views. Everyone had a great time, and we returned ready to proceed with our prints.
Back at the studio, Carol led the group through the process of layering colors and cutting stencils to preserve colors already on the prints. By the time the prints were finished, each one had between 3 and 6 layers of color, creating very dynamic compositions. Since they were all subjects from the ranch, there was great cohesion in the series, and everyone was thrilled with the results. Prints were left to dry, to be signed and matted Sunday morning.
Saturday's dinner was one of my favorites – chile rellenos stuffed with local cheeses. It paired well with some of the wines purchased on Friday. After dinner, we reviewed our prints, and thought about titles to be added when fully dry. After brunch on Sunday, titles were added, prints were matted, and everyone judged the workshop to be very educational and fun.
Carol Catalano Webb will return to the ranch the weekend of March 3 – 6, 2016 to further explore techniques in Printmaking. We look forward to her return visit!
We hope you'll consider joining us for one of our creative, productive, inspiring and fun workshops at the Ranch; please visit our website, bajaranchoart.com to see our schedule of Upcoming Events.