Plein Air Workshop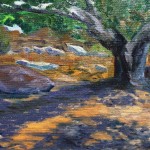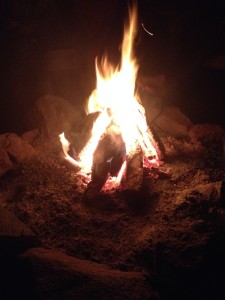 Paula, Sonny, Diane E, Diane H., Janet, Liz and I arrived at the ranch Thursday afternoon to work in oils with Stuart Burton of the Art Academy of San Diego. After a settling in, Stuart discussed our goals for our 3-day workshop. His approach is very inspiring – "tell the story with as few words as possible" – reminding us to keep it simple, watch our values, shapes and shadows and let color take care of itself. Thursday evening after dinner we sampled a few premium tequilas as we watched the bonfire, then headed to our cabins for the night.
Friday morning we received individual drawing instruction, then worked at our easels, capturing the morning light coming into the canyon. Stuart gave a demonstration on composition and color mixing, and his approach is simple. Just 6 colors, plus white, comprise his palette. We joked a bit about our various approaches to color…shopping for the "perfect" color in a tube, and then finding out it doesn't exist. In nature, every color is affected by the colors around it, so the color you see is unique to the lighting and atmosphere of the moment. Learning to mix accurate colors is a major topic of study for Stuart, and he is an expert. By lunchtime, we were seeing things quite differently, and our canvases were the better for it.
After lunch, we had planned to visit the wine country of Valle de Guadalupe, but we decided to stay at the Ranch and paint. The setting offers so many scenarios for plein air painters, it is often hard to decide what to use as a subject.
Stuart suggested we tackle the oaks around the cabins. He helped us see the basic structure in the trees, and made color-mixing suggestions that brought unity to these studies. By that afternoon, we were feeling much more knowledgeable on the subject of color – both seeing it and creating it.
A delicious dinner of carne asada awaited us after relaxing a bit in the late afternoon.
Saturday morning brought more painting and more inspiration, and then we were off in the afternoon for a group horseback ride.
Riding is always an option for guests at our workshops, as we like to highlight the diversity of activities this region of Baja has to offer. Everyone has a great time, from beginners to experienced riders – Raul always takes care of the guests and matches them to the perfect horse.
After dinner on Saturday we were in for an unexpected treat. Unbeknownst to us, we had a musician in our group. Sonny is a great blues harmonica player, and he entertained us with a few classic tunes. I'm always so impressed by people with musical skill; to be able to enrapture people with an impromptu solo is a gift!
Such simplicity – a fire, some music, laughter, and swapping stories before going to bed.
As we packed up our wet canvases, easels, and gear on Sunday, we were wishing we could stay. It's always this way – folks arrive at the Ranch unsure of what to expect, they become instantly at ease, enjoy themselves and create wonderful things, and never want to leave. If only we had all the time in the world to engage the artist within us. Imagine the possibilities!