Plein Air Workshop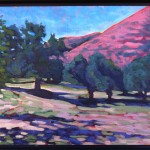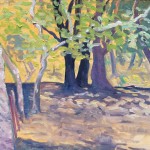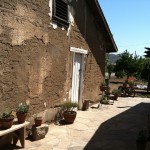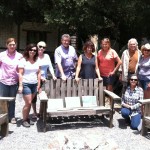 Stuart Burton of the Art Academy of San Diego led a group of artists and art students on two mornings of plein air painting, and the results show the variety of subjects that we love at Rancho La Bellota.
Under the oak and sycamore trees
After settling into our cabins, we refreshed ourselves with happy hour, visited with our hosts Raul and Caroline Aguiar, then sat down for a delicious family style dinner of chiles rellenos. After relaxing and chatting at the bonfire, it was time for bed.
Setting up easels under the oak and sycamore trees Friday morning, students were inspired by the quaint caretaker's cabin, the horse corrals, and the trees themselves. Several hours of effort and Stuart's great instruction produced some promising 9 x 12 canvases; some were completed, others were underpaintings to be finished at home.
Retorno, San Antonio de las Minas
After a lunch of chicken machaca tacos, we headed out to Valle Guadalupe to sample some wines. With over 80 vineyards in the Valle, it's always hard to choose where to go, but we decided to try a new spot, Retorno. It's in the village of San Antonio de las Minas, an old gold mining area at the south end of the Valle. Vintner Mario shared 5 wines with us, explaining the subtleties of each. We were even treated to a barrel tasting.
La Casa Vieja
Then we were off to La Casa Vieja, a 150-year-old adobe house used as a tasting room. The buildings and grounds of the winery offer many options for scene paintings and photography, and we plan to return soon and spend the day with our easels and cameras. Again, five wines were offered in this charming setting. The owner, Humberto Toscano Moran, served us and we enjoyed learning about his family's long history in the wine valley.
Moonlight ride, a rare treat
Happy and relaxed, we returned to Rancho La Bellota for a siesta, followed by tequila samplings. Friday night's dinner was the Ranch's specialty, fresh rotisserie roasted lamb, organic and raised on the property. Pureed potatoes and sautéed carrots complimented the lamb perfectly.
Since Friday night brought a full moon, Raul had the horses saddled for a moonlight ride, a rare treat. Seeing Rancho La Bellota from atop a hill with Valle Seco below lit by moonlight was a magical experience for the artist's. After our nocturnal ride, the bonfire, music, stories, and laughter created a truly memorable evening.
Compositions, color, and light
Saturday morning found the artists at their easels again, with Stuart helping them analyze compositions, color, and light. Several artists set up right in the patio, attracted to the mammoth agaves, rustic furniture, chickens, and the pool reflecting the sky and grape vines.
After a lunch break – tostadas – some of us chose to ride horses, while others continued to paint the afternoon away. Dinner was another treat, authentic Ranch-style barbacoa. Not BBQ as we know it, barbacoa is a pit method of slow cooking meat underground. The fire is lit at 6 am; the marinated meat (beef and lamb for us) is sealed in a pot, wrapped in foil, set on the coals, and buried for 8 hours. Falling of the bone deliciousness is the result. Do not stand in the doorway when the dinner bell rings, you'll get run over! Bonfire, music, stories, and sleep. Bliss.
Criollo horses
Sunday, after a breakfast of muffins, eggs and soy chorizo with fresh fruit, we went on a wonderful group ride, and Raul had the perfect horse for each rider's ability ready to go. Beginners and experienced riders can safely enjoy themselves on the ranch's Criollo horses. They are bred and trained to be steady, willing, and sure-footed, as they are true cowboy cattle horses. Perfect for enjoying the miles of scenery and endless views from the rolling hilltops of the Ranch's 2,800 acres.
We always feel like family
After a 2 hour ride we were a bit hungry, and our final lunch was a buffet of lamb/beef barbacoa in it's own juices, rice, tortillas, fresh zucchini from the garden and fruit. We could barely move away from the table, but needed to pack up for our trip back to San Diego.
We said our goodbyes around 2:00 and were driven back to the border by Raul. The Aguiars always make us feel like family, and on the ride north we were entertained by stories of the history of the areas we passed through. By the time we arrived at Tecate, we didn't want to go home, but we must, each of us planning our return to this little corner of Mexico that holds so much charm and beauty.