A Rainy Day at The Ranch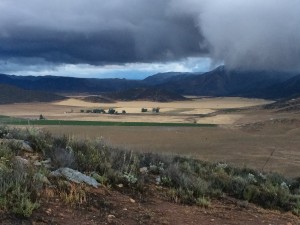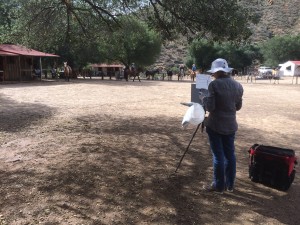 An Open Studio means each Ranch guest uses their time as they wish – painting, creating photos, pulling prints on our press, or even working with clay. It's an opportunity to find your private muse, and relax with your favorite medium.
In May we had a mixed group of riders and artists. While some came for the excellent terrain and the surefooted horses, others brought their easels, and some guests did both – painting in the mornings, and joining in for an afternoon ride. On Friday afternoon we decided to visit Valle Guadalupe for lunch, and dined at Vinos Fuentes, one of our favorite restaurants in the wine country.
The Fuentes family has been making wine for 3 generations in the Valle, and has recently added a lovely restaurant to the property. They feature modestly priced meals using fresh local ingredients in traditional combination plates as well as upscale choices like quail and fresh grilled tuna. Knowing it's all delicious, I have a difficult time making a selection here, but I am never disappointed with my meal. And, when owner Miguel Fuentes in in the house, you are in for a good time – he has a joyful spirit that is reflected in the wine and food served in his restaurant.
As we returned to the Ranch, we watched a great rainstorm approach and quench the thirst of the agricultural fields in the area. After a very dry winter season, the storm was a welcome sight for all of us, and especially for Raul. Water is a precious resource in all of the Californias, and Baja is especially vulnerable to drought. Many local ranchos rely on dry farming or low-level irrigation for their crops, so rain is always something to celebrate.
As we arrived at the top of a hill, we stopped for a while to take pictures of some of the dramatic and beautifully tinted clouds rolling through the valley. We shot some panorama views, and I collected some really good source photos for future canvases. I've been studying clouds for some time now; they can add such drama and beauty to a simple painting. I'm ready and inspired to go for it now.
So, whether you come to the Ranch to create, relax, explore, or gather inspiration, there is always a wonderful gestalt there with people who see the beauty in all things, and wish to enjoy an uncomplicated break in our complicated lives.