Learning from a Native Kumiai Master Weaver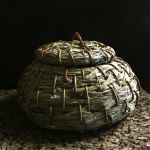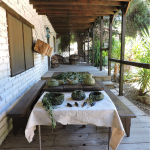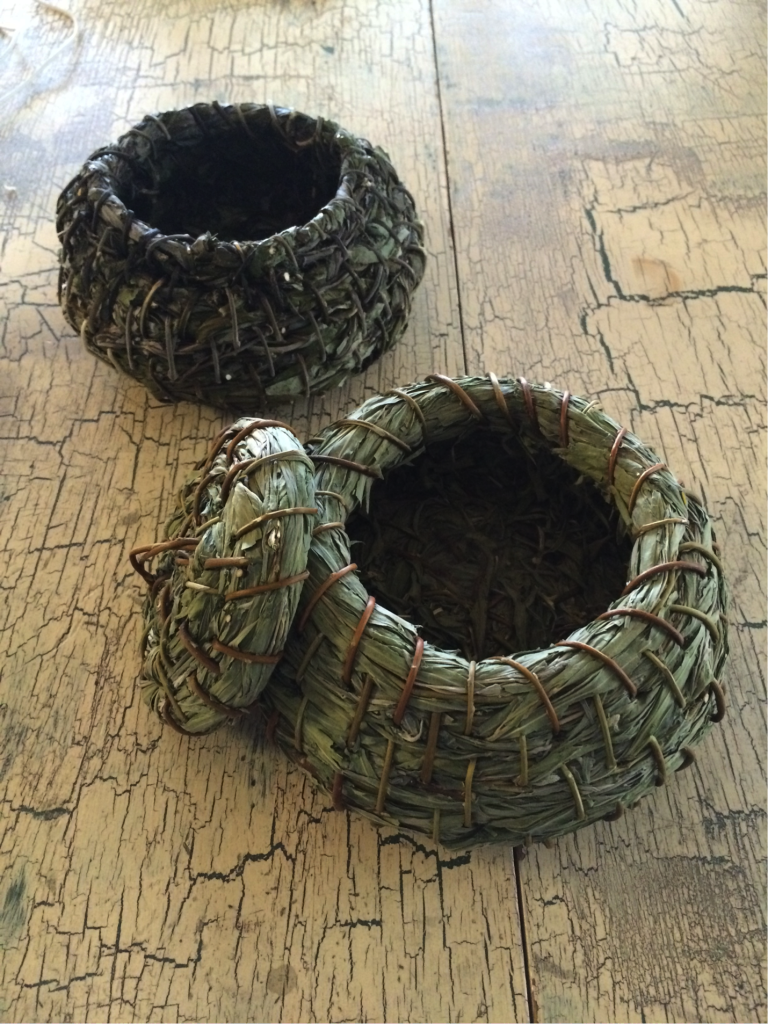 Spring is the season of basket making in Native cultures, and our Kumiai Willow Basket Workshop with Master Basket Weaver Virginia Melendrez was a truly unique learning experience. Virginia is a Kumiai native of San Jose de la Zorra, a region near the Valle de Guadalupe wine country with a rich tradition of basketry.
Kumiai Master Basket Weaver Virginia Melendrez
The Kumiai of Northern Baja California and the Kumeyaay of Southern California are known as the "Indians of the Oaks" and are related, with a modern international border splitting the band into two groups. They share a common history and many traditional crafts. The Kumiai have been basket weavers for hundreds of years; the art form is passed through the generations, mother to daughter.
A Lidded Olla
We arrived at the ranch in time to relax before dinner Thursday evening, and talk around the table centered on the weekend's activities. We planned to go wine tasting and enjoy a gourmet winery lunch on Friday (more on that below), then return to the ranch to meet our instructor Friday afternoon. Basketry lessons were set for Saturday and Sunday mornings. I'd like to share the experience here with you. After spending Friday in the wine country, we returned to the ranch and met our instructor, Virginia Melendrez. She would be guiding us through the ancient process of creating individual baskets, starting with gathering the plant materials right at the ranch. Virginia had brought several baskets with her, to show us a variety of traditional shapes and a few new ones. Containers shaped like bowls and vases are traditional, but she also had made some whimsical animal forms, a turtle and a bird.
We would be collecting a native species of willow that grows in streambeds throughout Southern California and Northern Baja. Traditionally, willow is collected in late spring and early summer when it is very flexible, making it easier to bend and form the shape of the base, sides, and lids of acorn storage baskets.
Ready for Our First Lesson
We headed up the canyon Friday afternoon to collect branches before dinner; we wanted to be ready for our first lesson in the morning. Virginia showed us what to cut; basically the thinnest shoots of the new spring growth. Selecting shoots at least 2 feet long, we were taught to cut some bluntly and others at an angle, creating a convenient needle point. In about a half hour we had enough willow branches to get started. We had also worked up an appetite, and while our winery luncheon had been delicious, were looking forward to a home cooked meal.
Chiles rellenos were on the menu for dinner, customized to suit the needs of our guests – no-red-meat, gluten and dairy-free for some, extra cheesy for others. They were stuffed with grilled chicken and chopped veggies, topped with homemade salsa, some with melted local cheese. Not battered and deep fried, these were truly healthy and full of flavor. Good conversation, a bonfire, and we were ready for sleep.
Saturday we awoke excited to begin our basket lessons. The willow branches had been left covered with a damp cloth overnight to keep them pliable, and we selected 4 – 5 thin branches with leaves to begin. We tied our branches into a knot, then bent the remainder of the branch cluster around the knot…the pliable branches bent easily and we were ready for our first stitches.
Wrapping Around the Knotted Core</strong >
Selecting an angle-cut branch, also very thin, we stripped the leaves off leaving just a few at the end, and were shown how to insert the point into the knot, wrap it around, and stitch into the core. Beginning to stich the coils together … That made the beginning of the coil which would grow into a basket. Bending, wrapping, and stitching around the knot, the flat bottom of the baskets began to take shape.
For the following rows, we used an awl (a pointed tool) to make a hole in the previous row, then inserted the pointed branch, pulled it tightly, and continued wrapping. We were making individual baskets, and I chose to try to emulate one of the traditional forms, an olla, or storage basket.
As we worked, Virginia explained many uses for baskets in the traditional world of the Kumiai. I was surprised to learn that the willow baskets she had brought were considered "miniatures" – they were between 8 – 10 inches across, and 5 – 10 inches high. Traditional willow baskets were much larger, 3 – 4 feet across, and were used to store acorns for up to six months in the ground.
A Traditional Kumiai Olla
The Kumiai migrated seasonally between different climate zones (coastal in winter, inland foothills in spring and fall, mountains in the summer), and as they left the inland areas in the fall, they left baskets of acorns buried in the ground to be used in the spring when they returned. Willow is a natural insect repellant and small mammals such as squirrels, mice and gophers don't like the taste of it, so the acorns were safe in the ground; a ready food supply in the spring, when acorns were not yet mature on the trees.
An Infectious Activity
After several hours of basket wrapping and stitching, we had very promising shapes beginning to emerge. We were ready to break for lunch and a horseback ride to explore the hilltops of the ranch and enjoy the expansive views they offer. After our ride, some of us worked on our baskets until dusk…it's an infectious activity; I kept saying "just one more row" and before I knew it I had a basket almost finished!
Morteros at Rancho La Bellota
Sunday morning visited the mortero site on the ranch, where native Kumiai women would have collected and ground acorns from the local oaks, leaving deep depressions in the granite rocks along the streambed.
We learned that different shapes of mortero holes were used to grind different foods; narrow, deep holes for grinding acorns and wide, shallow holes for corn and other grains. Willows were growing there also, and we imagined the conversations among the women and girls of the Kumiai as countless generations gathered acorns, labored to produce their meals, and perhaps sat in those very places to create their willow storage baskets.
After our walk, we "wrapped up" our baskets…mine was beginning to look like an olla. We just needed to learn how to finish off the wrapping and stitching by tapering the ends of our branches, using closer stitches near the end, and tucking in the remaining "needle" branches – the ones we used to stitch the rows together.
Overall, I'm very proud of my basket, as were the others in our group. We had learned a timeless craft from a master artist, had a piece of history to take home, and had our memories of another wonderful experience at the ranch.
A Timeless Craft
The Kumiai Culture of Baja California is rich and enduring – next year's workshop will be an experience you won't want to miss!
And if you are a foodie, here's a summary of the outstanding meal we enjoyed at El Pinar, the outdoor dining room at Tres Mujeres Winery:
Cheese Shop of the Familia Samarin
Friday morning after breakfast we headed for Guadalupe, a small town in the heart of the wine country. At the artisanal cheese shop of the Familia Samarin, we sampled many varieties of cheeses, breads, spreads, and jams, and we saw several Kumiai willow baskets on display. This started us thinking about our upcoming lessons and we studied the construction of the baskets carefully, as if to imprint it on our minds for good luck.
Lunch at Tres Mujeres Winery
Then we were off for lunch at Tres Mujeres Winery, and were greeted by owner Ivettte Vaillard. We'd come specifically to dine at El Pinar, the outdoor bistro on site. Chef Iseme was there to greet us, ready to plan her menu around our no-red-meat, gluten-free, and dairy-free guests. As an omnivore, I was wondering what could possibly be left to prepare a meal, but Iseme outdid herself once again.
Our six course meal (remember, this was lunch!) started with two green salads, a chilled cucumber soup, smoked sardine or sausage appetizer (both were amazing), entre choices of flank steak, rock fish, or pork ribs, all grilled over oak coals. Since we couldn't decide, we each ordered one and shared; I can't tell you which I preferred, as all were excellent and grilled to perfection. A small cheese plate followed the main course, offering three local specialties, then dessert – an amazing walnut cream mousse topped with honey and a home-baked ginger cookie. All I can say is WOW. We shared a bottle of Ivettte's wine, La Mezcla, a delicious blend of Cabernet Sauvignon and Grenache. It complemented the meal perfectly, and was graciously served tableside by the vintner herself.
Tres Mujeres Winery and Restaurante El Pinar always offer the best in regional, artisanal products in a charming setting. We always look forward to seeing what Ivette and Iseme have created out of the local bounty.
Art, Wine, or Horses
Whether it's art, wine, or horses you love, we hope you'll join Baja Rancho Art at Rancho La Bellota for a fun, inspiring, and relaxing learning experience. Please see our website at bajaranchoart.com to view our upcoming painting, photo, printmaking and ceramic workshops.