Watercolor Media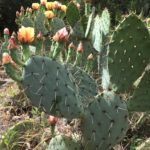 Helen Shafer Garcia returned to the ranch in May for her second Baja workshop. Helen is a painter, mixed media, and assemblage artist and award-winning illustrator. Her whimsical style shows her love for nature found in the landscape, flora and fauna of a particular region. She's currently working with watercolor, pastel, and mixed media to create contemporary nature -inspired images on paper along with a series of journals showcasing the Iconic folklore images she discovers in her travels.
Helen brought 9 students to the Ranch to relax and paint among the oak and sycamore trees of Bellota Canyon. Some guests were new to the media, others brought more experience, but all of us moved forward in our skills during this very enjoyable and instructive weekend.
After enjoying carne asada for dinner, Helen discussed the plan for this 3-day workshop. Her approach is very simple – "look for what inspires you – the unexpected, the colorful, the essence of a thing or place".
Friday morning over coffee and muffins, Helen showed us how to create simple contour drawings of some of the various plants in the garden area. Succulents make interesting models with their large shapes and basic forms. Some of us created blended compositions of 2 or 3 on a page, using a neutral water-soluble pen.
Next, we washed clean water onto the lines, making them bleed and soften, making a layer of color without even touching the watercolor pigments yet.
Sometimes, the hardest thing to starting is to get past the empty whiteness of the paper. With Helen's simple method, we were halfway there without actually thinking about painting yet.
I find watercolor to be a challenging medium. Watercolor generally cannot be removed once placed, so you need to plan out the colors, values, shapes, and layering from the beginning, or just get happy with your results. It's like painting without a safety net! But Helen is an outstanding instructor, understands the potential of watercolor, and had truly set us up to succeed. After washing in a second layer of color, we watched the interaction of the ink and the pigment. In just a couple of hours, we had some very nice botanical studies to work from.
After lunch, we talked about our morning drawing/painting session and our trip to the wine country that afternoon.
A visit to Las Nubes and Vena Cava wineries was followed up with a stop at the cheese shop for some locally produced gourmet cheeses. Back at the Ranch a delicious dinner of steak ranchero awaited us.
Saturday morning we drove the painting gear up the canyon and set up near the spring. A huge opuntiacactus grows there, and it was in high bloom with beautiful yellow blossoms.
The landscape was catching the morning light beautifully, as it cast a golden glow upon the flowering plants. After some sketches, we were encouraged to use the cactus as the major focus of the painting– a great idea, since it brought drama to the composition. The flow of the watercolor pigments married the subject to the background beautifully.
Before we know it, it was time (again) for lunch. That's one of the pleasures of staying at the Ranch for a workshop. We don't need to drive to get a meal…it's all prepared for us, on our schedule. When inspiration strikes, we can even have it delivered right from the kitchen!
The afternoon brought more inspiration. Building upon the energy and experience of the morning session, we returned to our palettes, studying the composition of the paddles and flowers of our very spiny model.
Then came one of our favorite moments of the weekend, and one we laughed about much later. After a couple of hours in the canyon, enjoying the beauty and sounds of nature, we heard a motor…
In a few minutes, we were delighted to see Raul coming through the trees with a tray of freshly made cantaloupe margaritas – unbelievable! We had been hearing the sound of the blender, working off a generator in the back of his truck. We all agreed they were the most refreshing treat we'd ever had while "working in the field"! Another reason why we love workshops at the Ranch…
Later in the afternoon, Helen showed us how to create some small vignettes on our paintings, two or three little paintings along the margins of the cactus study from the canyon. We were encouraged to look very closely at the acorns, leaves, flowers, and animals all around us. It turned simple cactus paintings into stories; visual journals about a special time and place.
That evening, the Ranch had planned a very special event for us. We were treated to an informal, private concert by one of the finest guitar players in Baja , Geraldo Valderarama. Senor Valderrama plays classical Spanish guitar, as well as popular standard Mexican ballads. We were invited to make requests, and Geraldo knew them all! What a magical way to dine – by candlelight with romantic live music!
Our dinner Saturday night was delicious fish Veracruz, one of my favorite meals. Accompanied by fresh veggies, salad, and rice, it was a gourmet meal all the guests enjoyed. That evening we talked around the bonfire, let the music linger in our heads, laughed about the margaritas, gazed at the stars in the dark sky, and went to bed feeling that we were beginning to gain confidence with watercolor.
Sunday morning, some of us went for a horseback ride while others painted, read, hiked or lounged around the pool. It was a warm morning and suited to just about anything. So perfect, we didn't want it end, and Helen offered to show us one more trick up her artful sleeve.
After brunch, we gathered in the barn to carve a small stamp, about 3" square, based on any of the forms that we'd been admiring during our stay.When done, the stamps were inked and printed onto rice paper and placed onto the paintings we'd made the days before. They acted like a signature or a watermark, and made a lovely finish for the artworks. It was a beautiful ending to a beautiful, creative, fun, and tasty workshop weekend. Thanks, Helen!
As we packed up to leave the Ranch, everyone agreed we'd learned a lot and had lovely paintings and memories to take home. We were wishing for just one more day, but we'll just have to return when Helen comes back in May of 2018. Watch this space!
Please visit our website, bajaranchoart.com for details on our 2 and 3 day trips to Baja's Ranch and Wine country. Click the Upcoming Events page to see what's new for 2017, and subscribe to our newsletter for information on upcoming art workshops and wine tours. Or, create your own group and let us customize a visit to this magical region of Baja – just minutes south of the Tecate border, but a world away!