Plein Air Workshop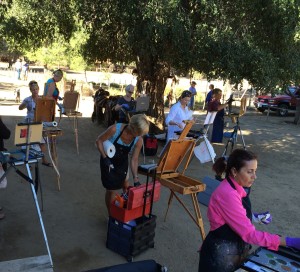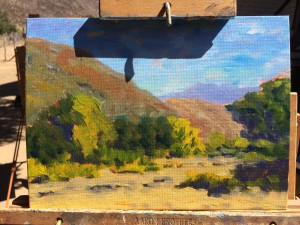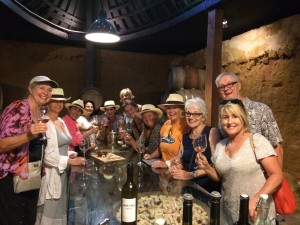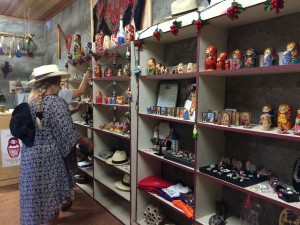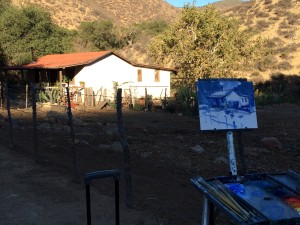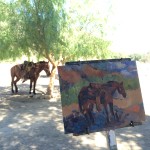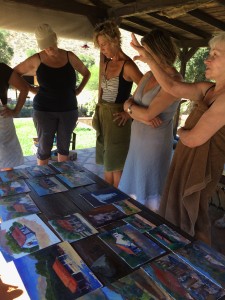 Our 3-day painting workshop featured structured painting sessions at scenic Rancho La Bellota with Catherine Grawin. Ms. Grawin teaches painting alla prima in oil in her Solana Beach studio and plein air painting at UCSD Extension and the La Jolla Athenaeum School of Arts. She was a juried participant in this summer's historic 100 years of Art in Balboa Park exhibition at the Marston House Museum, celebrating the 1915 Panama-California Exposition Centennial. Ms. Grawin is one of Southern California's foremost plein air painters of the landscape.
Painting alla prima is an exciting "wet-in-wet" oil painting technique that is rapid and painterly. This workshop was designed for the serious beginner to the experienced painter, using traditional methods in exercises and painting landscape and animals.
We focused on strengthening our use of color, value, and composition while practicing lively alla prima-style brush techniques. Working "au plein air" (outdoors) forces us to analyze a scene quickly, mix color with confidence, and approach the painting with energy as we observe the natural beauty and light within the landscape.
Friday morning, we gathered for coffee and muffins to watch a demonstration on pigment characteristics, color theory, and composition. Catherine helped us see the energy of the local scenery, including the beautiful oak and sycamore canyon view we focused on.
Once at our easels, we followed along as Catherine describe her method of working; establish the composition (what's in, what's out), sketch lightly in oil directly onto the canvas, and begin with the large shapes and basic colors in the scene. She took frequent breaks from her own work to allow us time to digest the ideas and work on our canvases, as she came around to discuss our initial efforts. One thing I learned was the use of Ultramarine blue and white as a "mud"…a neutral to mix into other pigments to tone down the intensity of a color. Nature is full of colors, but most of them are slightly to fully neutralized versions of the pure pigments that come out of the tube of paint. Being able to quickly neutralize these colors is essential to plein air work.
Time seemed to fly, and before we knew it, we had some respectable canyon scenes beginning to emerge. I'm always amazed at group paint outs – how several artists can converge on a scene, then create distinctly different paintings, all capturing an essential but different aspect of the beauty before us.
Painting makes one hungry, so we were ready when the lunch bell range. After tostadas, we had a quick review and critique, and then headed off the Ranch for a visit to the wine country, Valle de Guadalupe. We had selected two wineries to visit, Vinos Bibayoff and Vene Cava, then planned to visit the cheese shop of Familia Samarin, with a 100-year history in the Valle.
Vinos Bibayoff is still owned by descendants of one of the original Russian families, which immigrated in 1906 to the wine valley. Still making some traditional old-country wines, they have also mastered the grapes that grow bet in the particular microclimate in this region of Baja. Their tasting room also displays and sells local and Russian arts and crafts.
A real treat was in store for us. Raul had suggested we visit a winery that he had recently visited and thought our guests would enjoy. Now the location, Vena Cava, is one of our favorites. A visit to the Vena Cava property gives visitors a memorable visual experience.
The ceilings are made out of old pangas (Mexican fishing boats), and the entry doors are made of repurposed eyeglass lenses to bring in light. All the materials were locally sourced from salvage yards in Ensenada. It sounds crazy, but it all works to create a light and open space to enjoy great wine.
Our last stop of the day was my favorite cheese shop, run by the Samarin family. In business in the Valle since 1906, they purchase cheeses from local ranchers, then age and flavor them in-house. Try the baked chipotle cheese with the Vena Cava Big Blend…they complement each other perfectly! And, both were delicious with the carne asada served at the Ranch that night. We'd had a full day – creative, instructive, fun, and delicious!
Saturday morning we focused on the caretaker's cabin, one of the first buildings you see as you enter the ranch property.
An adorable white brick building, it softly reflected the early morning sunlight with a warm glow. The surrounding garden and oaks made a strong contrast in our compositions. As Catherine lead the way, we worked quickly to capture the light before it solidified into midmorning brightness.
While some of us went into lunch, others in the group stayed to paint on …
The cow skull hanging on a post, the tack shed, the oaks themselves, and the sheep offered intriguing subjects for those who painted on. Several guests completed four canvases in just 2 and a half days! Practice, practice, practice …
Some of us went riding after lunch, others chose to work at the easels… a saddled horse was the subject for an impromptu afternoon session.
Dinner was a welcome treat. Raul's delicious rotisserie lamb, roasted on a spit over an oak fire for hours. Served with mashed potatoes and steamed veggies, it was truly a gourmet meal after a day of pure creative energy. After dinner, we sampled some reserve tequilas, and then some hit their pillows.
Others, including me, decided on a challenge – to stay up late and paint a nocturne. No one in the group had ever attempted one, but the spirits were willing, so why not? What a hoot! Painting with a headlamp, it's hard to see the actual color you are mixing due to glare, hard to see how it's going on the canvas (also glare), and your eyes have to adjust a lot to the actual darkness you are looking into vs. the glare of the palette and canvas.
I went to bed not knowing exactly what I had, but was pleased enough with it in the morning…
Well, when we'd had our first ups of coffee in the morning, we began to amass all the canvases which had been finished during our 3 day workshop…very impressive!
Catherine's enthusiasm and spirit had inspired all of us to create much more than we had anticipated, and we were all proud and pleased. We can't wait for her to return in 2016!