Anne Alyse Ostis, Licensed Acupuncturist and Energy Medicine Practitioner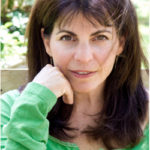 Anne Alyse has created a powerful approach to healing that combines intuitive insight with energy release, "The Ostis Method of Intuitive Healing". This combination helps clear emotional blockages that hinder the flow of energy through the body. These energy patterns appear as congested areas in the body which can manifest as physical or emotional pain. Anne Alyse utilizes her knowledge of Chinese Medical channel theory to help you to clear blockages in your channels, communicating with you as she goes. Through the power of intuition and self-awareness, you become aware of your own deep connections to these areas where your natural flow has been hindered. Anne Alyse provides the space for you to integrate a deeper cognitive understanding of how you sequester and free up energy in your own body.
Anne Alyse began her education with a BA in Sociology and a minor in Psychology from the University of California at Santa Barbara. After she received her Bachelor's degrees Anne Alyse began a long diverse education in the health sciences. Initially she obtained an advanced degree as a mobile intensive care paramedic. After a few year she shifted her focus to preventative medicine, becoming a therapeutic massage practitioner. She closely followed that with recognition as a Reike Master and a three year Ayurvedic Study program at The Evergreen Herb Farm in Placerville, California.
Honing her skills in structural correction and energy medicine, Anne Alyse was in practice for over 20 years before further enhancing and deepening her work with pain relief and internal medicine. She graduated from Five Branches University, becoming a licensed Chinese Medicine Practitioner/Acupuncturist. Her work is effective for pain release as well as in many aspects of health management. She has taken advanced classes in Mei Zen Cosmetic Acupuncture, fertility and weight loss. She has also studied blood analysis, and nutritional sciences.