Photography Workshop with Eileen Mandell
Night Sky, Landscape and Ranch Life Photography
Photography Workshop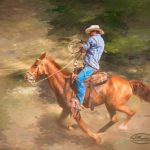 Eileen Mandell returns to the ranch November 1-4, 2018. Eileen will guide you through all the steps to photograph the beautiful, moonless night skies in our rustic ranch surroundings as well as creating amazing star trails. Then, weather permitting, we will spend the evenings photographing in various areas of the ranch. A digital SLR camera that allows for ISO settings of 3200 and above is required for night sky photography.
A daytime horse stampede and fall colors in the Valle de Guadalupe wine country will also provide fascinating subjects. Sign up now to reserve your spot; Eileen often sells out well in advance of her creative, fun workshops.
Eileen Mandell is an award-winning photographic artist, well-known for her nature photography and innovative work with alternative photographic processes and media. For Eileen, alternative media and textural surfaces capture the life of a scene, creating a depth and richness that mirrors her love of nature.
*Cost includes: Professional workshop instruction, 3 nights lodging and 8 meals at Rancho La Bellota, horseback riding, all transportation in Mexico, and winery tour in Valle de Guadalupe. Optional wine purchases are paid on your own. Workshop size is limited to provide individual attention and instruction. This photography workshop will focus on understanding camera controls for shooting fast action for stampeding horses, landscapes, as well as night sky photography.  A list of suggested camera equipment to bring will be emailed to participants.