Paipai Pottery Workshop with Daria Mariscal, Native Master Potter of Santa Catarina, B.C., Mexico
February 2 – 7, 2017
Five guest
s from Florida, Oregen, and Canada joined Peter Rozek at the ranch for 5 days as Daria shared her mastery of pottery and pit firing in the traditional way of her people.
This was a truly special pottery workshop. The Paipai Band of Baja Natives are distant cousins of the Baja Kumiai, who are closely related to the Kumeyaii Bands of Southern California. The creation of the international border basically spilt these tribal bands into two groups, who continue to interact when they are able.
While the Baja Kumiai lost their pottery traditions, the Paipai are the only native people in Baja California who still produce pottery in the traditional way, without the use of a potter's wheel or kiln.
Daria produces beautiful and functional works of art that help sustain her people. Through her labor and dedication young tribal members learn their culture and history. She enjoys sharing her knowledge and teaching these skills to others; we felt it was a true privilege to learn from such a master.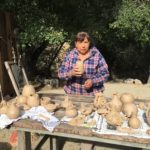 During this wonderful week, the group learned native pottery techniques, including "paddle and anvil" and coiling methods. They spent the first few hours of the workshop learning how to process raw clay (Daria had plenty ready for us, but we wanted to learn). Then they began producing unique forms; some in the traditional olla form (a rounded bowl with a mouth smaller than the belly), some open bowls, and others of pure whimsy.
Native clay is minimally processed; it can sometimes be used straight out of the ground. It is especially important that these clays be durable, as they go through extreme thermal shock during the pit firing process, and can only be fired when the pots are bone dry.
So, after the hand-building sessions, the pots and small sculptures needed time to dry a bit before burnishing with a smooth stone. Burnishing gives the pots a satin sheen, and hardens them by compressing the clay and driving out excess moisture. Taking burnishing breaks throughout the few days, we had ample time for horseback riding, hiking, relaxing, and a couple of trips off the ranch.
One of the day trips was to Valle Guadalupe, Mexico's famous wine region, located just 30 minutes from the ranch. The group visited Mogor Badan and Vena Cava, two premium small-scale producers, and enjoyed the fine wines at each.
Another day Daria invited the group to visit her home, the Paipai Reservation and Museum at Santa Catarina, B.C. Located about 40 miles east of Ensenada, the reservation is about a 2 hour drive from the ranch through the wine country, south to Ensenada, and east through the beautiful agricultural valley of Ojos Negros. This area is well known for their fine local cheeses, and we saw plenty of "happy cows" in lush green fields along the way. Cava Marcello is a great place to stop for a cheese tasting, well presented in their beautiful subterranean cheese cave. They offer a tasting of 5 cheeses, aged from 1 week to 3 years.
The reservation was truly a highlight of our workshop week. We arrived in time for lunch, and enjoyed our picnic burritos in a lovely and natural high desert setting. Daria welcomed us into the cultural museum, and we soon realized that the building is used for more than just showing and selling pottery. Large handwritten charts on the walls are used to teach the children of the tribe their native Paipai language and customs. Showcases display arrowheads, arrow making tools, grinding stones (manos and morteros), and baskets. All the stone implements were found on the reservation property, and the old baskets are reminders of the labors of the elders of the past. New baskets were also on display, and their masterful construction was stunning.
Daria's studio is in the next room, and we were immediately drawn to the wall of beautiful open bowls, incense burners, and ollas. All the pots had distinctive "smoke and flame" patterns, which indicate their pit fired nature. Rather than glazing and firing in a kiln, as most pottery is produced, native pottery is fired without a kiln. The pots are placed on the ground and a bonfire of dried yucca bulbs and cow manure is built and lit right on top of the ceramic wares. This creates an intense temperature shift in a short period of time, and most commercially available clays cannot take this shock, resulting in cracked pots.
While at the reservation, we were able to see the pits where the clay is dug from many small pits, some no more than 3 – 4 feet wide, and shallow. The Paipai have gathered clay in this area for generations, and the pits, though small, dot the landscape near the river bank.
Before leaving, we had the honor to meet another Paipai artist, Theresa Castro, a well-known master potter, weaver, and basket maker. Living in the most humble of homes, she spends much of her day creating the traditional items of her people.
As we headed back to Ensenada and then to the ranch, we all felt we'd truly had a special afternoon, and had gained a greater understanding of the history and traditions of the native pottery process. After a brief stop at a tequilaria and another for delicious fish tacos we were soon back at the ranch. What a great day!
By taking these day trips, our clay creations were allowed to dry slowly and evenly. They were ready for the bonfire the next day, with time to cool that night.
The next afternoon, Daria guided the group in building a proper bonfire out of cow dung. Dung has plenty of heat-producing fiber, and is a very traditional fuel for firing pottery. After a few words, the fire was lit and began to warm the pots. Within minutes, it was a true bonfire, with flames licking the pots that were barely visible.
As we watched the flames for a few hours, we talked about the trip, reservation life, and family traditions. Daria shared a bit of her family history; she has relatives throughout Baja. In fact, she is a distant relative of our host Raul – they think about 100 years back. It sometimes seems to me that everyone in Baja knows everyone else…not really, but there are a few family names that appear throughout the peninsula. These are the descendants of the Californios, the first Mexican families to populate and (partially) tame the environment.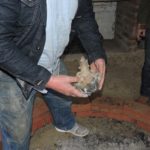 The next morning was like Christmas!  What had happened overnight? Did the pots survive?
Indeed they had…and they were beautiful. As they were dug out from the ashes, each pot was a special gift, as it told the story of its journey through fire. The dark grey, rust, red, and buff colors on the pots were its memory embedded in the clay. The hottest parts of the fire made the most color, and the peripheral areas were barely changed but still emerged in beautiful tones of warm brown.
After a quick rinse, we spent time studying the designs, the forms, and the beauty of the collection. We couldn't wait to take them home for "show and tell", but of course, that also meant it was time to start packing. After five days at the ranch, it was easy to imagine we were home, our lives transformed by the simple pleasures and beauty of life in the south.
We said our farewells to our master teacher and inspiration, Daria Mariscal, and to Raul, Caroline, the cook, the wrangler, the dogs, horses, sheep, roosters, and all those lovely stars in the dark night skies. North we would go, to family, friends, jobs, and homes, but with powerful memories for a lifetime.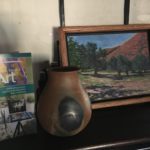 Baja Rancho Art will offer another 5 day workshop with Daria November 14 – 19, 2017. We hope you can join us for this truly special event.
See you at the ranch!
Ellen
Open Studio , Sept 23 -25, 2016
A Baja Rancho At Open Studio means each Ranch guest uses their time as they wish – painting, creating photos, pulling prints on our press, or even working with clay. It's an opportunity to find your private muse, and relax with your favorite medium.
In September we had a mixed group of artists.  While some came to work with clay, others brought their easels, and some guests did both – painting in the mornings, and joining us the in afternoon for a raku firing.
On Friday afternoon we decided to visit Valle Guadalupe for wine tasting and lunch at Vinos Fuentes, one of our favorite restaurants in the wine country.
The Fuentes family has been making wine for 3 generations in the Valle, and has a lovely restaurant to the property. They feature meals using fresh local ingredients in traditional combination plates as well as upscale choices like quail and fresh grilled yellowtail tuna.  Their wines complement the food perfectly.
Returning to the ranch, we stopped to take some panorama views, collecting some really good source photos for future canvases. I've been studying shadows for some time now; they can add such drama and beauty to a simple painting.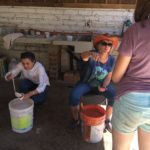 That afternoon, we fired up the kiln for a group of rake glazed pots. Raku is an exciting process, based on a Japanese method of firing.. The pots are fired once to harden and completely dry them, then glazed and re-fired. During the second firing, at the right temperature, the pots are removed from the kiln red hot, using tongs and heavy gloves.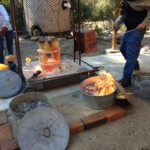 The pots are quickly placed in a can of combustibles, often pine needles, sawdust, or paper. This material quickly ignites. The flames are allowed to burn a few moments, then the lid is placed over the can to smother the pots.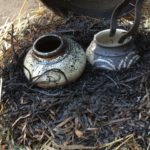 Smothering the fire pulls oxygen out of the glazes, which are formulated to create exotic and unpredictable surface colors including metallic, deep black, and crackle patterns.
So, whether you come to the Ranch to create, relax, explore, or gather inspiration, there is always beauty to be found or created.
Please visit our website, bajaranchoart.com for details on our 2 and 3 day trips to Baja's Ranch and Wine country. Click the Upcoming Events page to see what's new for 2018, and subscribe to our newsletter for information on upcoming art workshops and wine tours. Or, create your own group and let us customize a visit to this magical region of Baja – just minutes south of the Tecate border, but a world away!
We'll hope to see you at the ranch –
Ellen
Eileen Mandell – Night Sky Photography and Stampede Action, June 2 – 5, 2016
The Poly Photo Club joined Eileen Mandell for her 3rd night sky photography workshop at the ranch. The sun was setting as we drove south, and cameras were at the ready to catch the blazing colors bathing the inland valley.
We spent Friday exploring the wine country, Valle Guadalupe, which always offers plenty of photo opportunities. We headed to the quiet streets of San Antonio de las Minas, a former gold mining area in the valley. After shooting the old adobes in El Porvenir, we visited Vena Cava and L.A. Cetto wineries to wrap up the afternoon on their lovely grounds.
Friday evening we enjoyed a delicious carne asada dinner. After dinner, Eileen held a meeting under the stars to help the photo students set up their tripods, measure the light, and make sure they had the proper settings ready for the brilliant night sky.
Saturday was spent at the ranch and the photographers passed the morning capturing the soft light in the canyon, the horses, cattle, chickens, sheep and dogs, the vintage tack, and the traditional architecture of the ranch buildings and cabins.
That afternoon, Raul and Gabriel rounded up the horses – about 25 of them – for a special event. Stationing the photographers on a flatbed truck for safety, the horses were stampeded within feet of them many times for some amazing live action shots; cameras were blazing. And the results were stunning!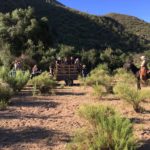 I captured the artists getting their shots.  Eileen later showed one of her action photos in the annual Equine show in Del Mar, CA
As day turned to evening, we all enjoyed chiles rellenos by candlelight in the dining room Saturday night. After dinner, we prepared for a very special activity of our photography weekend.
Almost every evening Rancho La Bellota offers very dark skies and excellent star gazing, and Friday and Saturday nights the photographers brought out their big lenses to capture the moon setting over the canyon hillsides, star trails, and star clusters invisible to the naked eye. Our minds were expanded to ponder the infinite depth of space, and how much we miss from our city-based and light-filled perspectives.
Sunday we took a leisurely horseback ride before a delicious brunch, then reluctantly began to pack up to head home. With so many shots to download and view, I know the photographers were looking forward to seeing exactly what their lenses had captured. I'm looking forward to adding more photos to this post as they become available. Watch this space, and check our Facebook page for updates!
Our May Photography Workshop was a hit on so many levels, it's hard to pick a favorite activity; but for me, I'd have to say it was seeing the photograph Eileen took of the Milky Way. Thanks, Eileen for capturing the moment.
All Baja Rancho Art weekends include lodging, horseback riding, all ranch meals, authentic Baja ranch genres, art activities, and winery tours.  We hope you'll join us for one of our creative, productive, inspiring and fun workshops at the Ranch.  Please visit our website, bajaranchoart.com to see our schedule of Upcoming Events, and see what the Baja Rancho Art Experience is all about.
See you at the ranch –
Ellen
Watercolor Media with Helen Shafer Garcia, May 5 – 8, 2016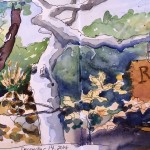 Helen Shafer Garcia returned to the ranch in May for her second Baja workshop. Helen is a painter, mixed media, and assemblage artist and award-winning illustrator. Her whimsical style shows her love for nature found in the landscape, flora and fauna of a particular region. She's currently working with watercolor, pastel, and mixed media to create contemporary nature -inspired images on paper along with a series of journals showcasing the Iconic folklore images she discovers in her travels.
Helen brought 9 students to the Ranch to relax and paint among the oak and sycamore trees of Bellota Canyon. Some guests were new to the media, others brought more experience, but all of us moved forward in our skills during this very enjoyable and instructive weekend.
After enjoying carne asada for dinner, Helen discussed the plan for this 3-day workshop. Her approach is very simple – "look for what inspires you – the unexpected, the colorful, the essence of a thing or place".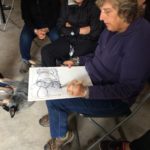 Friday morning over coffee and muffins, Helen showed us how to create simple contour drawings of some of the various plants in the garden area. Succulents make interesting models with their large shapes and basic forms. Some of us created blended compositions of 2 or 3 on a page, using a neutral water-soluble pen.
Next, we washed clean water onto the lines, making them bleed and soften, making a layer of color without even touching the watercolor pigments yet.
Sometimes, the hardest thing to starting is to get past the empty whiteness of the paper. With Helen's simple method, we were halfway there without actually thinking about painting yet.
I find watercolor to be a challenging medium. Watercolor generally cannot be removed once placed, so you need to plan out the colors, values, shapes, and layering from the beginning, or just get happy with your results. It's like painting without a safety net! But Helen is an outstanding instructor, understands the potential of watercolor, and had truly set us up to succeed. After washing in a second layer of color, we watched the interaction of the ink and the pigment. In just a couple of hours, we had some very nice botanical studies to work from.
After lunch, we talked about our morning drawing/painting session and our trip to the wine country that afternoon.
A visit to Las Nubes and Vena Cava wineries was followed up with a stop at the cheese shop for some locally produced gourmet cheeses. Back at the Ranch a delicious dinner of steak ranchero awaited us.
Saturday morning we drove the painting gear up the canyon and set up near the spring. A huge opuntia cactus grows there, and it was in high bloom with beautiful yellow blossoms.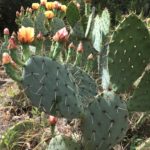 The landscape was catching the morning light beautifully, as it cast a golden glow upon the flowering plants.   After some sketches, we were encouraged to use the cactus as the major focus of the painting– a great idea, since it brought drama to the composition. The flow of the watercolor pigments married the subject to the background beautifully.
Before we know it, it was time (again) for lunch. That's one of the pleasures of staying at the Ranch for a workshop. We don't need to drive to get a meal…it's all prepared for us, on our schedule. When inspiration strikes, we can even have it delivered right from the kitchen!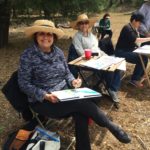 The afternoon brought more inspiration. Building upon the energy and experience of the morning session, we returned to our palettes, studying the composition of the paddles and flowers of our very spiny model.
Then came one of our favorite moments of the weekend, and one we laughed about much later. After a couple of hours in the canyon, enjoying the beauty and sounds of nature, we heard a motor…
In a few minutes, we were delighted to see Raul coming through the trees with a tray of freshly made cantaloupe margaritas – unbelievable! We had been hearing the sound of the blender, working off a generator in the back of his truck. We all agreed they were the most refreshing treat we'd ever had while "working in the field"!   Another reason why we love workshops at the Ranch…
Later in the afternoon, Helen showed us how to create some small vignettes on our paintings, two or three little paintings along the margins of the cactus study from the canyon. We were encouraged to look very closely at the acorns, leaves, flowers, and animals all around us. It turned simple cactus paintings into stories; visual journals about a special time and place.
That evening, the Ranch had planned a very special event for us. We were treated to an informal, private concert by one of the finest guitar players in Baja , Geraldo Valderarama. Senor Valderrama plays classical Spanish guitar, as well as popular standard Mexican ballads. We were invited to make requests, and Geraldo knew them all! What a magical way to dine – by candlelight with romantic live music!
Our dinner Saturday night was delicious fish Veracruz, one of my favorite meals. Accompanied by fresh veggies, salad, and rice, it was a gourmet meal all the guests enjoyed. That evening we talked around the bonfire, let the music linger in our heads, laughed about the margaritas, gazed at the stars in the dark sky, and went to bed feeling that we were beginning to gain confidence with watercolor.
Sunday morning, some of us went for a horseback ride while others painted, read, hiked or lounged around the pool. It was a warm morning and suited to just about anything. So perfect, we didn't want it end, and Helen offered to show us one more trick up her artful sleeve.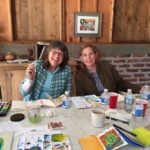 After brunch, we gathered in the barn to carve a small stamp, about 3" square, based on any of the forms that we'd been admiring during our stay.When done, the stamps were inked and printed onto rice paper and placed onto the paintings we'd made the days before. They acted like a signature or a watermark, and made a lovely finish for the artworks. It was a beautiful ending to a beautiful, creative, fun, and tasty workshop weekend. Thanks, Helen!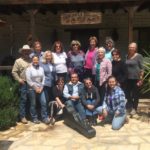 As we packed up to leave the Ranch, everyone agreed we'd learned a lot and had lovely paintings and memories to take home. We were wishing for just one more day, but we'll just have to return when Helen comes back in May of 2018. Watch this space!
Please visit our website, bajaranchoart.com for details on our 2 and 3 day trips to Baja's Ranch and Wine country. Click the Upcoming Events page to see what's new for 2017, and subscribe to our newsletter for information on upcoming art workshops and wine tours. Or, create your own group and let us customize a visit to this magical region of Baja – just minutes south of the Tecate border, but a world away!
We'll hope to see you at the ranch –
Ellen
Plein Air Painting Jeff Yeomans ,with March 10 – 13, 2016
Our 3-day painting workshop featured painting lessons at led by Jeff Yeomans, one of San Diego's top Plein air and studio painters.   Jeff teaches painting alla prima in oil at the Athenaeum School of Arts in La Jolla and gives workshops en plein air (outdoors) at scenic spots around San Diego and Laguna Beach, CA.  Jeff is one of Southern California's foremost plein air painters of landscape and the Californaia scene.
Jeff and the group of 9 painters arrived at the ranch Thursday afternoon to work in oils or acrylics. Jeff had specific goals for our workshop. He reminded us to keep it simple – think about composition first, then values, then color. Lots to consider as we sat by the bonfire, then headed to our cabins for the night.
Working "en plein air" forces a painter to analyze a composition quickly, mix color with confidence, and approach the painting with energy as the light and color within the landscape changes before our eyes. Artists working outdoors must capture the scene in about 2 hours…as the sun and light intensity changes.
Friday morning, we gathered for coffee and muffins to watch a demonstration on mixing secondary colors, color theory, and composition. Jeff chose the tack shed, with its red roof and rustic walls, to focus on for this demo.
Jeff's approach is simple; using just 3 colors (alizarin crimson, ultramarine blue, and cadmium yellow light), plus white, on his palette. In nature, every color is affected by the colors around it, so the color you see is unique to the lighting and atmosphere of the moment.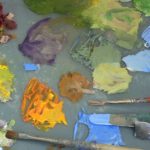 Learning to mix accurate colors is a major topic of study for Jeff, and he is an expert. By lunchtime, we were seeing things quite differently, and our canvases were the better for it. Jeff took frequent breaks from his canvas to work with each of us individually. He explained that nature is full of colors, but most of them are slightly to fully neutralized versions of the pure pigments that come out of the tube of paint. Being able to quickly neutralize these colors is essential to plein air work. We learned to mix Ultramarine blue and white into a "mud" and use it to create these subtle neutralities we were seeing in the scene in front of us.
We were ready when the lunch bell range. After tostadas, we had a quick critique, and then headed to the wine country, Valle Guadalupe. We had selected two of our favorite wineries to visit, Mogor Badan and Vene Cava, followed by a visit the cheese shop of Familia Samarin, with a 100-year history in the Valle.
Vena Cava gives visitors a memorable visual experience. The ceilings are made out of Mexican fishing boats, and the entry doors are made of eyeglass lens blanks which bring in light, all locally sourced from salvage yards in Ensenada. It all works to create a light and open space to enjoy great wine.
A delicious dinner of rotisserie lamb awaited us after relaxing a bit in the late afternoon.
Saturday morning brought more sunshine and more inspiration. Jeff's demonstration was a view up the canyon towards the spring. We were able to get on our easels sooner this morning, due to yesterdays through explanation of composition and color mixing. Before long we had canyon scenes beginning to emerge. I'm always amazed how several artists can paint the same scene, creating distinctly different paintings, each capturing an essential but different aspect of the beauty before us.
Lunch was ready, and while some of us took a break, others in the group stayed to paint the caretaker's cabin, the tack shed, the oaks themselves, and the sheep in the corral; all offered intriguing subjects for the painters.
Some of us went riding after lunch, others chose to work at the easels… the patio was the subject for an impromptu afternoon session. Riding is always an option for guests at our workshops, as we like to highlight the diversity of activities this region of Baja has to offer. Everyone has a great time, from beginners to experienced riders – Raul always takes care of the guests and matches them to the perfect horse.
Dinner was a welcome treat. Raul's delicious barbacoa – beef cooked for hours over an oak fire buried in the ground. Served with mashed potatoes and steamed veggies, it was truly a gourmet meal after a day of pure creative energy. After dinner, we sampled some reserve tequilas, a fine treat.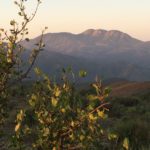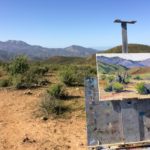 Sunday morning, four us drove up the hill to catch the sunrise, and try to capture the fast changing dawn on canvas. Jeff's brush was working furiously and we tried to keep up! After about an hour we headed down for coffee and muffins, and to take a look at our efforts. We began to amass all the canvases that had been finished during our 3-day workshop…very impressive!
As we packed up our wet canvases, easels, and gear on Sunday, we were wishing we could stay. It's always this way – folks arrive at the Ranch unsure of what to expect, they become instantly at ease, enjoy themselves and create wonderful things, and never want to leave. If only we had all the time in the world to engage the artist within us. Imagine the possibilities!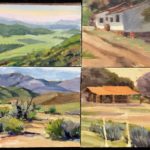 Jeff's direct teaching and his skill with his brush inspired all of us to create much more than we had anticipated, and we were all proud and pleased.   We can't wait for him to return in 2017!
Please visit our website, bajaranchoart.com for details on our 2 and 3 day trips to Baja's Ranch and Wine country. Click the Upcoming Events page to see what's new for 2017, and subscribe to our newsletter for information on upcoming wine trips and art workshops. Or, create your own group and let us customize a tour of this magical region of Baja – just minutes south of the Tecate border, but a world away!
We'll hope to see you at the ranch –
Ellen
Printmaking Workshop with Carol Catalano Webb, March 3 – 6, 2016
Artist/Instructor Carol Catalano Webb and her husband, ceramic artist Chris Webb joined us with 6 guests to learn the art of relief printmaking. This pair of artists always has boundless creativity to share with us!
After dinner Thursday evening, we reviewed the schedule for Friday while enjoying a bonfire. In the morning, Carol would demonstrate linoleum block carving, the use of stencils, and color choices.   Students would have time to plan their designs, transfer and begin to carve the first layer of the block for printing. Then we'd take a break and head to the wine country in the afternoon.
Friday morning, after coffee and muffins, Carol asked her group to wander the ranch a bit and photograph interesting things to use as subjects for prints. Several guests enjoyed photographing the sheep herd, the gardens, the horses and tack shed, and vintage farm equipment around the ranch. Later, over breakfast, Carol reviewed the photos and made suggestions for print compositions. Then she took her group in the studio.
As the printers began to design their printing plates from their collected images, Carol gave a color mixing demo, showing that all colors can be made from red, yellow, and blue. Her prints show how mixing and juxtaposition of color can create very dynamic designs. The printers set about preparing their printing plates, using simple tools and stencils cut from their individual designs.
Lunch was homemade chicken burritos with trimmings, and afterwards we set out to visit the Valle de Guadalupe, Mexico's premier wine producing region.   We visited two of our favorite wineries, Vinos Garza and Adobe Guadalupe, to experience two ends of the wine producing spectrum.   Vinos Garza is a boutique-style winery in a beautiful hilltop setting with lovely views of the wine valley. Their three selections were all delicious and some of us made purchases to take back to the ranch to enjoy with dinner.
Adobe Guadalupe is in the heart of the Guadalupe Valley and has just completed their new tasting room. The setting contrasts the hilltop site of Vinos Garza; at Adobe Guadalupe, you are actually in the vineyard. Their flights of four tastings offer a range of mid and premium whites, reds, or a combo tasting. After a stop at the Samarin Family Cheese Shop for baked cheese with chilpotle chiles, we headed back to the ranch.
Friday night dinner was a ranch specialty – spit-grilled lamb, grilled veggies, rice and beans, and homemade salsa. It was a perfect evening topped off with another bonfire in the patio. We talked over Saturday's plan – working on our prints in the morning, lunch, then a horseback ride. After some stargazing we headed to our cabins; relaxed and ready for sleep.
Saturday another delicious ranch breakfast got us fueled for the studio. Carol led the group through the process of layering colors and cutting stencils to preserve colors already on the prints. By the time the prints were finished, each one had between 3 and 6 layers of color, creating very dynamic compositions. Since they were all subjects from the ranch, there was great cohesion in the series, and everyone was thrilled with the results. Prints were left to dry, to be signed and matted Sunday morning.
After lunch we were off to the stable to meet our horses; the cowboys had rounded them up from their 2,800 grazing area. Each guest was matched with the perfect horse based on their riding experience, from "none" to "I used to ride" to "I ride often". We set off to enjoy the hilltop views. Everyone had a great time, and we returned ready for happy hour.
Since Carol's husband, Chris Webb, is a ceramic artist, we were able to try something a little different with our print designs. As a bonus activity, guests were invited to make a resist image on a ceramic tile, which would be fired in our raku kiln. Designs were drawn on the tiles with wax, then the tiles were dipped in glaze. Since the glaze cannot adhere to the waxed lines, they would appear as black lines once the tiles were fired.
Saturday's dinner was delicious – chile rellenos stuffed with local cheeses. It paired well with some of the wines purchased on Friday. After dinner, we reviewed our prints, and thought about titles to be added when fully dry.
Sunday morning we prepared the raku area of the clay yard, then fired up the kiln with the tiles we'd painted the day before. Raku is a fast firing process, and after about 45 minutes the tiles were ready to remove from the kiln. The kiln was opened and working in teams, we removed the red hot items and placed them in barrels of sawdust. The sawdust ignited immediately, was allowed to burn for a few moments, then the fire was smothered by putting a lid on the barrel.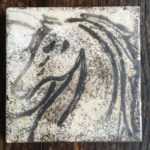 After cooling, the tiles were removed and the black and white images were a complete contrast to the colorful block printed designs of yesterday.
After brunch on Sunday, the prints were matted, titles were added, all were photographed, and Carol offered some critique on our efforts – all lovely expressions of our beautiful setting. Everyone judged the workshop to be educational, creative and fun we're looking forward to Carol Catalano Webb's return to the ranch in 2018 to further explore techniques in Printmaking.
We hope you'll consider joining us for one of our creative, productive, inspiring and fun workshops at the Ranch; please visit our website, bajaranchoart.com to see our schedule of Upcoming Events.
Wine Tasting in Valle de Guadalupe, Baja California, December 4 – 6, 2015
Eight guests joined us for a weekend at Rancho La Bellota near Valle de Guadalupe, "Mexico's Napa Valley".  The valley is a jewel, with over 80 vineyards ranging from small family owned boutique wineries to mid-sized vineyards to large-scale production facilities.  We visited 3 wineries and enjoyed a delicious luncheon in the Wine Country.  Read More
Chris and Carol Webb, November 5 – 8, 2015 Ceramics Workshop – Raku and Pit Fired Pottery and Cold Finishing
One event, Two Firing Techniques!
Chris Webb has over twenty-five years of teaching experience and enjoys sharing his expertise by leading clay workshops for ceramic educators, art professionals, hobbyists, and novices throughout California. His wife Carol Catalano Webb teaches printmaking, but also explores cold finishes on pottery, using some of Chris's ceramic pieces as her canvas.
On the first weekend in November 2015, we held our second Ceramic event at the Ranch. 6 guests and 2 instructors made for a very hands-on and personalized workshop. The focus of the weekend was to run several firings using different methods to create unusual color and surface designs on our clay vessels.  Read More
Catherine Grawin, September 24–27, 2015 Instructor-led Plein Air Workshop
Our 3-day painting workshop featured structured painting sessions at scenic Rancho La Bellota with Catherine Grawin. Ms. Grawin teaches painting alla prima in oil in her Solana Beach studio and plein air painting at UCSD Extension and the La Jolla Athenaeum School of Arts. She was a juried participant in this summer's historic 100 years of Art in Balboa Park exhibition at the Marston House Museum, celebrating the 1915 Panama-California Exposition Centennial.  Ms. Grawin is one of Southern California's foremost plein air painters of the landscape.  Read More
Helen Shafer Garcia, September 17 – 20, 2015 Instructor-led Watercolor Workshop
New Ideas with Water-based Media
 Helen Shafer Garcia is a painter, mixed media, found object and assemblage artist and award-winning illustrator. Her whimsical style shows her love for nature found in the landscape, flora and fauna of a particular region. She's currently working with watercolor, pastel, and mixed media to create contemporary nature -inspired images on paper along with a series of journals showcasing the Icon folklore she discovers in her travels.  Read More
Stuart Burton, June 18–21, 2015, Instructor-led Plein Air Workshop
Paula, Sonny, Diane E, Diane H., Janet, Liz and I arrived at the ranch Thursday afternoon to work in oils with Stuart Burton of the Art Academy of San Diego. After a settling in, Stuart discussed our goals for our 3-day workshop. His approach is very inspiring – "tell the story with as few words as possible" – reminding us to keep it simple, watch our values, shapes and shadows and let color take care of itself.  Read More
Rose Irelan, June 4 – 7, 2015, Instructor-led Plein Air Workshop
Rose Irelan returned for her second workshop at the Ranch in June, and her color intuition was on really on display.   Late spring is one of the loveliest times to visit the Ranch, and the weather never disappoints. Long, warm days and cool nights allow plenty of time to work in our studio or in the landscape. We did a bit of each during our stay.
Rose's group brought mixed levels of experience to the workshop, so she made an excellent choice by starting our instruction Friday morning with a still life session, working with gouache.  Still life refers to painting or drawing objects which do not move, thereby giving the artist plenty of time to study form, light, and color. Read More
Open Studio Weekend, May 14 – 17, 2015
An Open Studio means each Ranch guest uses their time as they wish – painting, creating photos, pulling prints on our press, or even working with clay. It's an opportunity to find your private muse, and relax with your favorite medium.
In May we had a mixed group of riders and artists.  While some came for the excellent terrain and the surefooted horses, others brought their easels, and some guests did both – painting in the mornings, and joining in for an afternoon ride.  Read More
Kumiai Artistry and Willow Basket Workshop, April 16-19, 2015
Our Hands-on Basketry Weekend in Baja California – Learning from a Native Kumiai Master Weaver. Spring is the season of basket making in Native cultures, and our Kumiai Willow Basket Workshop with Master Basket Weaver Virginia Melendrez was a truly unique learning experience. Virginia is a Kumiai native of San Jose de la Zorra, a region near the Valle de Guadalupe wine country with a rich tradition of basketry. Read More
Printmaking Workshop with Carol Catalano Webb, March 12 – 15, 2015
We've been very excited about the new barn and studio, and here are some highlights of last weekend's Printmaking Studio at the Ranch.  Artist Carol Catalano Webb came with her husband, ceramic artist Chris Webb to christen the studio with our guests, 4 of whom were learning printmaking for the first time. Chris would also be test firing our two new ceramic kilns. This pair of artists has boundless creativity to share with us!  Read More
Photography Workshop, October 30–November 2, 2014 – Stampedes, Dark Skies, and Memento Mortis!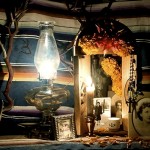 As we drove south on Highway 3, the cameras captured the rural simplicity of the inland farming and ranching valleys. As we neared Rancho La Bellota the photographers were delighted to find the shady, oak lined canyon that is the heart of the ranch. As owner Raul says – "In Baja, where there are oaks, there is a spring. Where there is a spring, there is a ranch." Read More
October 16–19, 2014 – Rose Irelan brings her inspirational colorist technique to the Ranch
On a classic fall weekend, what could be better than painting en plein air at beautiful Rancho La Bellota?  This instructor-led event featured San Diego artist and teacher Rose Irelan, working her color magic on the vineyards and sycamores in Bellota canyon.  The vines were starting to turn from fresh green to gold and amber, and the trees were a riot of yellow green, orange and russet. Read More
September 25–28, 2014 – Stuart Burton returns to Rancho La Bellota for Fall Colors en Plein Air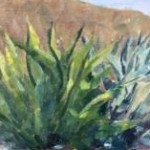 Dave, Dave, Sue, Veece, Bryan, Liz and I arrived at the ranch Thursday afternoon to work on our plein air technique with Stuart Burton of the Art Academy of San Diego. After a welcome margarita and chiles rellenos for dinner, Stuart discussed our goals for our 3 day workshop. Read More
June 20–22, 2014 – Open Studio, Wine Tours, and the Summer Solstice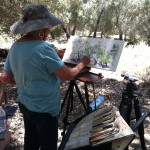 Four painters, friends and family arrived Friday afternoon at Rancho La Bellota in June. Several of us spent the mornings painting while others rode horses, then we all enjoyed a vineyard tour of Tres Mujeres Winery, La Casa Vieja, and L.A. Cetto. Read more
Stuart Burton, June 12–15, 2014 –  Instructor-led Workshop
Stuart Burton of the Art Academy of San Diego led a group of artists and art students on two mornings of plein air painting, and the results show the variety of subjects that we love at Rancho La Bellota. Read more
April 3–6, 2014 Open Studio
Our April trip was fun-filled and productive. Baja Rancho Art and Rancho La Bellota hosted a group of nine artists and riders last weekend and we all had a wonderful, productive and relaxing time! This was one of our open studio events, with two oil painters working alongside several acrylic artists. Read more
November 15–17, 2013 Art and Wine Event
November workshop was a creative success! Five painters and a photographer were among our November workshop participants.  We all enjoyed a weekend of painting/shooting in the beautiful vineyards of Tres Mujeres Winery (Vinacola Tres Mujeres), and relaxing at beautiful Rancho La Bellota. Read more